"Why New Paints Are More Than Just Pretty"
"The paint industry continues to develop lighter-weight, more durable and faster-drying coatings for aircraft applications as airlines and business aircraft owners insist upon faster turnaround times in the paint shop—and less environmental impact."
Sherwin-Williams and other paint manufactures discuss new technology and innovation for aerospace coatings. in this Aviation Week article posted December 2020.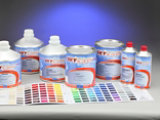 Product Lookup
Explore our product solutions for a variety of applications and aircraft types.
Ask Sherwin-Williams
Ask how Sherwin-Williams can bring the right products and expertise for your aircraft.