The Key to Expert Color Matching
Sherwin-Williams Aerospace distributor, Blend Supply, offers a valuable service to their customers - custom color matching. The article from Paint & Coatings Industry explains the detailed process and complexities.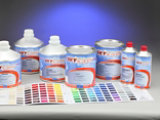 Product Lookup
Explore our product solutions for a variety of applications and aircraft types.
Ask Sherwin-Williams
Ask how Sherwin-Williams can bring the right products and expertise for your aircraft.