The Finishing Touch
Exploring the Colorful World of Aircraft Painting
Jason Holland from MRO Management assesses developments from both a manufacturing and maintenance perspective regarding the aircraft brand image.  
"The outer skin of an aircraft is the brand ambassador and identifier for every airline – it is what everyone notices first whether at the airport or in the sky."
But aircraft paint can present tough technical challenges as it relates to the important aesthetic requirements.
Article Summary of "The Finishing Touch" appearing in MRO Management, September 2021.  Retrieved from https://www.aviationbusinessnews.com/mro/painting-and-coatings-the-finishing-touch/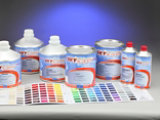 Product Lookup
Explore our product solutions for a variety of applications and aircraft types.
Ask Sherwin-Williams
Ask how Sherwin-Williams can bring the right products and expertise for your aircraft.