Painting Innovation
Profile - West Star Aviation and Sherwin-Williams Aerospace Coatings
Emilie Harbour, Corporate Aircraft Lead Designer, Interior & Paint, at West Star Aviation, and Julie Voisin, Aerospace Coatings Global Marketing Manager at The Sherwin-WIlliams Company, discuss a unique paint job project completed on a Dassault Falcon 7X.  
Article Summary of "Painting Innovation" appearing in  Business Aviation Magazine, Spring 2022.  Retrieved from https://issuu.com/bizavmedia/docs/bam021_spring_2022/52?fr=sYzFjNDQ4NDMxODE
Skip carousel content
West Star Aviation completes a Falcon 7X with a matte clearcoat paint scheme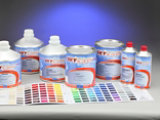 Product Lookup
Explore our product solutions for a variety of applications and aircraft types.
Ask Sherwin-Williams
Ask how Sherwin-Williams can bring the right products and expertise for your aircraft.