The State of Paint
Sherwin-Williams joins Aircraft Maintenance Technology to discuss recent trends in aircraft painting and the outlook post-pandemic.
Julie Voisin, product marketing manager — Aerospace & OEM Automotive Interiors, Sherwin-Williams, sat down exclusively with AMT to discuss some of the recent trends in aircraft painting. Sherwin-Williams and AMT partner to conduct an annual paint survey, asking MROs a variety of questions to gauge the state of the painting industry. 
Article Summary of "The State of Paint" appearing in AviationPros.com in April 2022.   Retrieved from https://www.aviationpros.com/tools-equipment/paints/paints-coatings/article/21263720/the-state-of-paint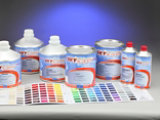 Product Lookup
Explore our product solutions for a variety of applications and aircraft types.
Ask Sherwin-Williams
Ask how Sherwin-Williams can bring the right products and expertise for your aircraft.