Sherwin-Williams Introduces New Interior Color Program
The most comprehensive interior color selection program for design specifiers and paint shops in the aviation marketplace.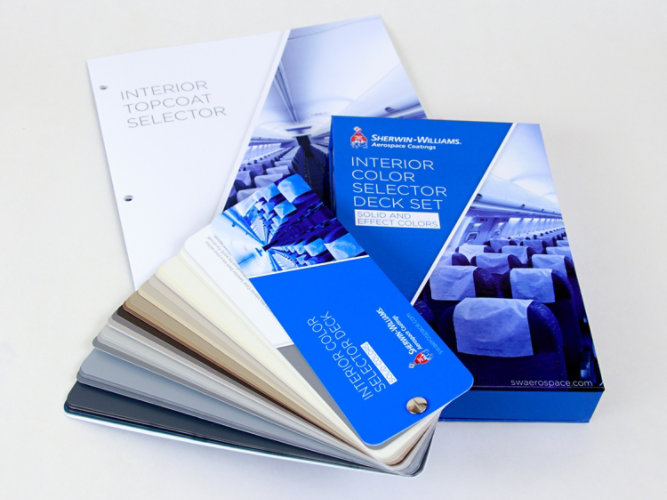 ANDOVER, KS - February 1, 2019 – Sherwin-Williams Aerospace is introducing its most comprehensive interior color selection program to design specifiers and paint shops in the aviation marketplace. The new Interior Color Selector book and fan deck set includes 107 colors, almost three times more than the previous interior selector. 
The new interior topcoat selector and fan deck set feature the latest opaques, effects and textures for all Sherwin-Williams cabin coating systems including JetFlex®, JetFlex® WR, JetFlex® ELITE, Polane® L and the new Jet Suede™ Soft Feel. 
Unique interior colors such as Foggy Forest, Stormy Sea, Steamy Latte, Silvery Moon, Sunset Blush, Coastal Breeze and Golden Radiance provide interior airline designers with a choice from the latest bright whites and neutral colors to warm hue effects. Each provides interior aircraft surfaces with outstanding stain, abrasion and scratch resistance. 
For example, Sherwin-Williams' JetFlex ELITE is an OEM-qualified paint system ideal for commercial and private aircraft interiors. It provides improved appearance and application features, as well as options as either a single-stage interior product (for colors) or a twostage system (for whites and light colors). 
Designed to offer subtle sophistication and mood enhancement to aircraft interiors, JetFlex ELITE colors are responsive to LED lighting. These coatings create a subtle glow with highlights and colored shadows not seen with current interior cabin coatings. Color tones have been derived and inspired from Sherwin-Williams' most popular interior design and architectural color lines. 
Using an interior cabin coating like JetFlex ELITE is a cost-effective way to improve the passenger experience in both the economy and premium class sections of the aircraft. The new interior color fan deck features large samples of solid and effect selections. This provides users the opportunity to view colors in large format and to easily compare colors side by side. 
Sherwin-Williams cabin coatings are recommended for interior applications and apply easily to plastic, metal and composite surfaces. Based off Boeing qualified technology (BMS 10-83), JetFlex ELITE and other Sherwin-Williams cabin coatings meet the most stringent requirements for stain and abrasion resistance as well as the FAR / JAR 25.853 regulations for burn, smoke and heat release. 
Sherwin-Williams Aerospace Coatings provides a variety of premier cabin coatings systems designed to provide a smooth, textured or soft feel finish. It also offers a variety of aerospace primer products specifically designed for aircraft interiors. These primers complement Sherwin-Williams interior aircraft topcoats by assisting with substrate adhesion and hiding profile and surface imperfections. 
The new color tools will be on display at the Aircraft Interiors Expo 2019 in Hamburg, in the Sherwin-Williams Aerospace Coatings exhibit. 
###
Editor's Note: The Sherwin-Williams Company, founded in 1866, is one of the world's leading companies in the manufacture, distribution and sale of coatings and related products to professional, industrial, commercial and retail customers. Aerospace Coatings is a business unit of The Sherwin-Williams Company, which manufactures and distributes a complete line of advanced technology paint and coating systems for a variety of commercial, general and military aircraft.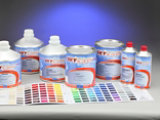 Product Lookup
Explore our product solutions for a variety of applications and aircraft types.
Ask Sherwin-Williams
Ask how Sherwin-Williams can bring the right products and expertise for your aircraft.