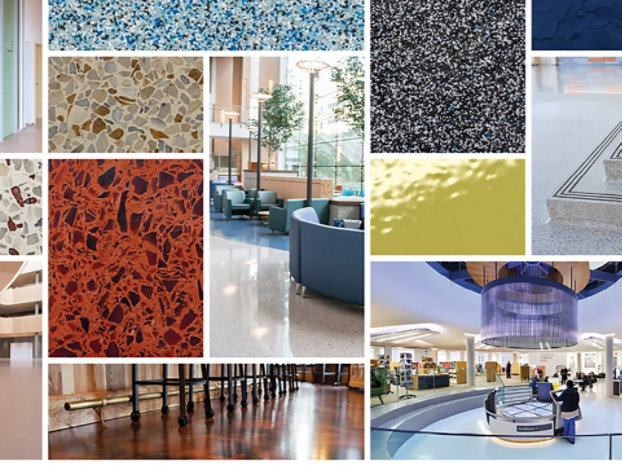 High Performance Flooring Colormix
Rhythm of Color
Sherwin-Williams High Performance Flooring systems complement the four 2021 Colormix palettes – Sanctuary, Encounter, Continuum and Tapestry – with an expanse of designs, patterns and color options. 
Our resinous flooring experts understand that floor coatings should be designed with both aesthetics and performance in mind. We are dedicated to delivering flooring that balances the two – finding the seamless rhythm between form and function. Tap into the inspiration of these palettes to create your own unique, yet cohesive spaces for airports, hotels, schools and other architectural projects.
SANCTUARY
Back to Nature
Bring nature inside. The Sanctuary palette has a remarkable ability to nurture wellness and calm with a simple collection of warm minimalism, natural materials and muted hues, inspired by Scandinavian design. Quartz and terrazzo flooring designs combine understated lines and rich textures with the highest level of performance – speaking volumes to what is possible for floor aesthetics.
ENCOUNTER
Layers of Local Character
Embrace layers of local character. The rich texture of the Encounter palette is defined by ancient wisdom, visual cues from the past that speak to our present and guide us into the future. Create gathering spaces, connecting individuals to the community, with our palette of floor coatings inspired by organic and earthy hues – a subtle reminder that beauty often has humble beginnings.
CONTINUUM
An Ethereal Spectrum
Embrace new possibilities. The Continuum palette incorporates a hybrid of synthetic and natural designs, reflective of where the human side of technology blends seamlessly into the colors of our environment. Our decorative flooring brings bright, forward-thinking colors that transform spaces for education, entertainment and engagement – sparked by a fresh source of inspiration.
TAPESTRY 
Permission to Play
You have permission to play. The Tapestry palette embraces personality and authenticity, influenced by creative expression and a maximalism approach that's more modern, curated and meaningful. Build vibrant spaces from the ground up with sensory and sustainable flooring solutions that use lavish jewel tones, layers of pattern and extensive textures.