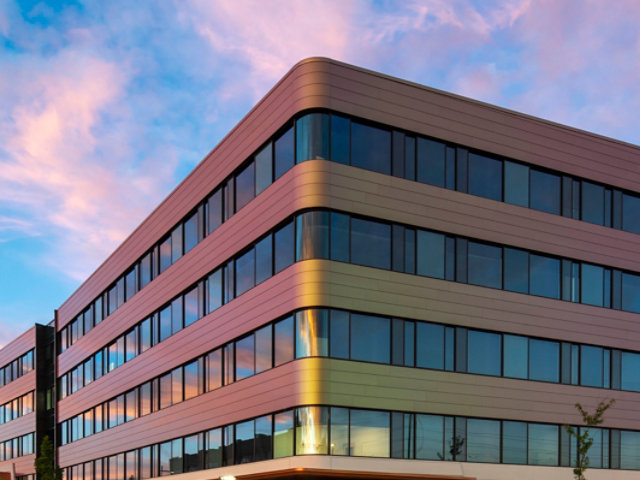 4220 Duncan
Iridescent, color-shifting façade on 4220 Duncan's LEED Gold offices reflects HOK's innovative, iconic design for high-tech tenants
Exemplifying innovation and creativity within St. Louis, Missouri's growing technology district, 4220 Duncan showcases an iridescent, color-shifting, metal-clad façade. Designed by HOK, the modern, eye-catching exterior's unique visual effect was accomplished utilizing Valflon® Prismatic from Sherwin-Williams Coil Coating in Rose Dust II on Dri-Design's standard and custom metal wall panels.
Valflon Prismatic coatings are formulated with special pigmentation that allows the coatings to achieve their polychromatic look that appears to shift in color when viewed from different angles or sunlight.
"These paints are really fun," praised HOK's principal and senior project designer, Tim Gaidis, LEED AP BD+C. "Our use of the color-shifting paints reinforced the themes we were designing around for 'transformational' people and companies in the Cortex Innovation Community. The transformational paint was a perfect integrated metaphor for this transformational environment."
As Wexford Science & Technology's newest building, 4220 Duncan takes a prominent position in the Cortex Innovation Community and in the hub of the St. Louis life science and technology marketplace. The five-story 182,000-square-foot mixed-use commercial building provides office and lab space for entrepreneurs, researchers and tech-sector employees to work, collaborate and unwind.
The distinctive 4220 Duncan's mixed-use office building attracts attention, while complementing the area's mix of contemporary and historic architecture. The building envelope's sustainable design and construction contributed to the project's LEED® Gold certification.
To balance 4220 Duncan's aesthetics, performance and sustainability goals, HOK worked closely with its client Wexford Science & Technology and the project's many design-assist partners. For the custom façade system, these included: Sherwin-Williams Coil Coatings, Dri-Design, Metal Coater for finishing, Hyde Sheet Metal Inc. for installation and Tarlton Corp. as the general contractor.
One-of-a-Kind Design
During 4220 Duncan's early design stages, HOK's Gaidis and Dri-Design's president Brad Zeeff met to review concepts and constructability. Dri-Design's project manager Dale Bauer became more involved as concepts developed in shape, size and color.
"The color was chosen because of its more bold shift from copper to green against some of the other options, which had less change between the two spectral ends. It was also complementary to the adjacent honey-colored brick building, which had copper accents in the brick, as well as the green landscape elements in the adjacent Innovation Plaza," explained Gaidis.
"We worked back and forth to get the right color and shift in the paint. Sherwin-Williams was a huge help on this. Their 'mixologists' sent numerous samples to Tim for about two months," remembered Bauer. "The architect wanted the building to transform from a bright copper color to a patina copper color. This was very difficult as we were trying to achieve a color shift from bright like a shiny penny to dull like the Statue of Liberty."
Bauer continued, "We finally achieved an approved color shift that the architect loved. It's even more amazing in its color shift, ranging gold to green to orange to pink." This new, custom color was named Prismatic Rose Dust II.
Next, HOK needed to gain the developer's approval of the Prismatic Rose Dust II color-shifting Valflon Prismatic coating by Sherwin-Williams. According to Gaidis, HOK's model shop created "a mock-up using 15 4-by-8-inch paint samples adhered to a curved wood backup to represent the curved corners of our building and the experience of the color shift as one moved around. It was very successful." He added, "Fortunately, everyone loved the final result!"
Along with achieving the project's desired aesthetic, Valflon Prismatic coatings also meet or exceed the industry's most stringent AAMA 2605 performance standards, Valflon is highly resistant to weathering, chalking, fading, airborne chemicals, acid rain and most cleaning solvents. A fluoropolymer (FEVE) resin-based coating, it exhibits exceptional color consistency, overall adhesion and high gloss levels.
We worked back and forth to get the right color and shift in the paint. Sherwin-Williams was a huge help on this. Their 'mixologists' sent numerous samples to Tim for about two months.
Environmental, Efficient and Effective Solutions
In total, Dri-Design manufactured 10,800 square feet of aluminum into 785 standard flat panels, custom trapezoid flat panels and custom radius corner panels for 4220 Duncan. Finished by Metal Coater in Valflon Prismatic, Dri-Design fabricated the panels into a rainscreen system, which was fully tested to ensure performance as specified. The pre-fabricated units also contributed to Hyde Sheet Metal's accurate and efficient installation.
In actuality, there were 52 different panel sizes configured to deliver on HOK's architectural vision. Made from 0.080-inch-thick aluminum sheet, the largest panels' dimensions were 120 inches wide by 20 inches tall for material optimization on Metal Coater's coil coating equipment. Bauer worked with HOK's Gaidis to adjust the sizes where needed. Staying within Metal Coater's size constraints also helped reduce wasted material and improved overall efficiency, ultimately saving time and costs.
Supporting 4220 Duncan's LEED® v3 Building Design+Construction Core and Shell Gold certification, Dri-Design also provided HOK with supporting documentation for the paint process, VOC capture and the panels' recycled aluminum content.
"Our system is 100% recyclable. Aluminum is one of the best materials on the market to meet sustainability needs," praised Bauer. "Fortunately, the distance from our manufacturing facility to the job site was just under 500 miles, so they received credit for that also."
Bauer added, "We were in constant communication with the architect, general contractor and installer to meet the schedule. We made sure the material was on site when they needed it."
To minimize on-site fabrication and reduce the opportunity for error, Dri-Design pre-punched the screw holes as part of its standard service. Further simplifying and speeding the installation, Dri-Design sequentially marked and carefully packaged each section.
Paul Sasser, Hyde Sheet Metal's estimator and project manager, explained, "It's like putting together a puzzle where all the pieces are about the same size. They made it very easy to install. We were finished in about two months. It went very well – fast and efficient."
Community Building
In addition to their work on 4220 Duncan, HOK and Tarlton Corp. have completed more than 20 projects in Cortex's live-work-play-learn destination. For more than two decades HOK has contributed to the Cortex Innovation Community – from planning the early concepts to the ongoing development and studies, and from designing the architectural exteriors to the office, lab, coworking, incubator, accelerator and other interior spaces.
Founded in 2002, Cortex is home to a vibrant 200-acre technology district integrated within St. Louis' historic Central West End and Forest Park Southeast residential neighborhoods, and situated close to the new MetroLink station and the Great Rivers Greenway trail.
In the words of Wexford Science & Technology's senior director, Doug Woodruff: "We aren't just developing space. We're building an entrepreneurial community where innovation thrives."
"Every innovation community should be powered to be unique and different," observed HOK's Gaidis. "Innovation communities are more than just buildings. They are strategically built around the idea that we are more than the sum of our parts, especially with access to the most important ingredient of all: a diverse community of big thinkers and risk takers."
Providing state-of-the-art facilities to support the nation's most promising technology advances, Cortex offers custom lab and office space, a highly-trained workforce, access to venture capital, and proximity to world-class research institutions including Washington University in St. Louis, Saint Louis University and the University of Missouri−St. Louis.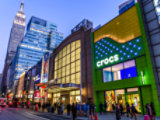 Valflon FEVE
Valflon gives you features rarely seen in the architectural industry — deep, rich, bright and vibrant colors plus high gloss.
Skip carousel content
Architectural Projects
Get Inspired
Sherwin-Williams has collaborated with architects and building product manufacturers around the globe to help bring monumental architecture to life in vibrant color that withstands the test of time.
View all of our projects