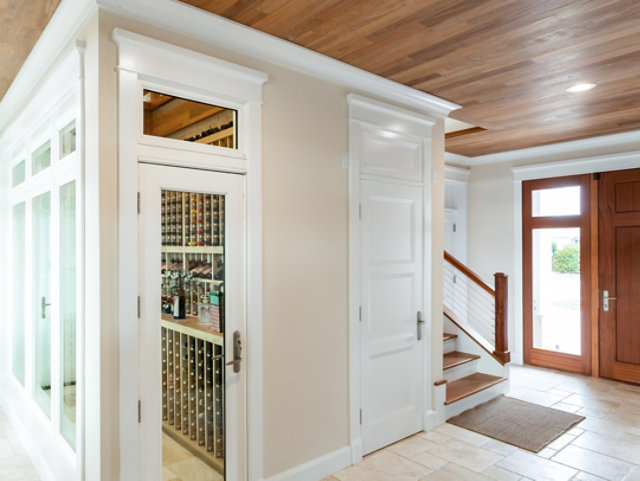 Millwork 360
Millwork 360 and Sherwin-Williams have a long history of working together, positioning the two companies for continued growth in the future.
As a testament to its products and services, Sherwin-Williams remained a constant coatings supplier for Mike Williams, even as he worked for three different companies over the past 24 years. He continues to do business with the coatings company on a daily basis as the general manager of Millwork 360.
Millwork 360, located in Tampa, Florida, prioritizes quality in their products, producing custom mouldings and doors for high-end commercial and residential markets. These millwork pieces are sold directly to lumber yards and dealers who know they'll receive high-quality products, on-time delivery and exceptional customer support with every purchase.
Brian Baines has only been the Sherwin-Williams sales rep for Millwork 360 for three years, but he and Williams have known each other for much longer, from when Baines worked in the millwork industry himself. Now, working together, Baines has witnessed first-hand how Williams emphasizes quality more than anyone – focusing on continuous improvement for the company's products.
Millwork 360 has three major product lines: custom, made-to-order mouldings, entry doors and interior doors. To meet customer needs, Millwork 360 offers design flexibility across its entire product offering."No matter what request our customers receive from the architect or contractor they're working with, they know they can give it to us, and 95% of the time we can supply the one-off product," said Williams. "The flexibility and versatility of our manufacturing is a big advantage."
When we have an issue or request, they'll get right on it and orders are always timely. The number one reason we keep buying from Sherwin-Williams is the service and follow-up they provide.
CUSTOMIZED SOLUTIONS
VillaCrest™ Interior Doors is Millwork 360's newest product line. The manufacturer makes these standardized doors with medium-density fiber (MDF), which is easily and quickly customized or modified depending on what a customer needs. Williams decided to ramp up production on this product in response to market demand for higher-quality doors constructed within shorter lead times.
During production line set-up for the interior doors, Sherwin-Williams was available onsite and on the phone to offer technical expertise. The team delivered samples, reviewed the line set up – including oven temperatures and sanding grits – and conducted testing to ensure that the coatings operation provided high-quality application.
"Sherwin-Williams gave us a hand in running samples, making minor adjustments and ultimately suggesting a different primer that would suit our needs," said Cliff Turner, a project engineer at Millwork 360. "Working with Sherwin-Williams reps who knew what they were doing made it a relatively easy process to change material types – which saved us a lot of time and money."
The new product Baines suggested was the SHER-WOOD® Water-Reducible High-Build Primer, which offers excellent sandability, ease of application and clean up, and is ideal for use in both vacuum coater and spray application. The coating also results in low-fiber pop. When the water-based primer hits the fiber, it only slightly pops up – ensuring the company sends out a smooth product. Once primed, these doors are sanded and delivered to customers, ready to be coated with a high-quality latex or oil-based topcoat.
customized service

Sherwin-Williams consistently recommends additional coatings and supplies that will help optimize Millwork 360's business operations. The coatings company supplies the manufacturer with exterior clearcoats for its fiberglass doors, as well as other application products like booth filters, solvents and the AERO-GREEN® 4110 cleaning solution. Millwork 360 uses AERO-GREEN 4110 for a wide range of applications, from general cleaning maintenance to line flushing and deep cleaning – extending equipment life and maintaining product quality.
In addition to receiving high-quality products and services, Williams enjoys working directly with Baines, David Mangold, the Sherwin-Williams facility manager, and Jason Schultz, the Sherwin-Williams technical representative. Williams explains that their knowledge and service is great, and it's easy to work with the three of them.
"When we have an issue or request, they'll get right on it and the orders are always timely," said Williams. "The number one reason we keep buying from Sherwin-Williams is the service and follow-up they provide."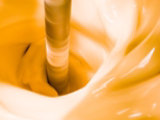 Product Solutions
To ensure they are developing the smoothest possible finish for their customers, Millwork 360 transitioned to SHER-WOOD Water-Reducible High-Build Primer, which offers excellent sandability. Check out our full portfolio of coatings solutions, designed to solve your biggest finishing challenges.
Learn More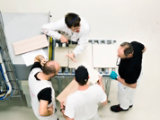 Technical Support
When it came to line setup  and running samples, Sherwin-Williams technical support was with Millwork 360 each step of the way, saving the company both time and money. Read more about how our services can help your business operate more productively and maximize throughput.
Learn More