How a Growing Cabinet Maker Stays Nimble While Elevating Quality
As Arizona-based SOLLiD® Cabinetry expands its manufacturing footprint and grows its business throughout the West, it has heightened its commitment to quality, consistency and timely delivery in part through on-demand technical support and wood color solutions from Sherwin-Williams Industrial Wood.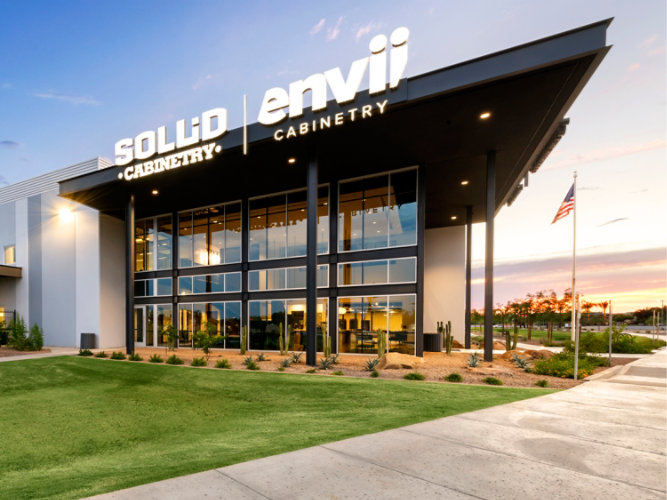 SOLLiD Cabinetry—a family owned, semi-custom cabinet manufacturer headquartered in Chandler, Arizona, recently moved into a new, state-of-the-art production facility. Featuring modern equipment, several employee perks, and nearly triple the production capacity of its previous facility, SOLLiD's new home is a testament to the company's success and to its bright future.
"We started in 2008, it was just a few of us operating as a warehouse," said Justin Riggs, owner, SOLLiD Cabinetry. "Then we decided we wanted to enhance the quality of what we were offering our customers. We began building much of what we offer in-house, allowing us to maintain tight quality controls, and we grew from there."
In that time, SOLLiD has grown to serve the western United States with beautiful, high-quality cabinetry in a range of styles, from traditional to contemporary. As it has scaled, it has relied on support from some key suppliers to stay nimble, meet customer needs, and maintain the level of quality the SOLLiD name has become known for.
"We're always pushing continuous improvement to provide our customers with the highest-quality cabinets—so when we look at potential partners, we look for people who can keep up with our pace and our standards," said Justin. "Those qualities have been especially important as we continue to grow our business and expand our markets."
In Sherwin-Williams Industrial Wood Coatings, SOLLiD has found such a partner. By providing unmatched quality, on-demand technical and customer service and consistent delivery, Sherwin-Williams has helped enable SOLLiD's continued growth and high-quality product offerings.
Elevating Quality
"Prior to working with Sherwin-Williams, we began having quality issues with the products we were receiving from another vendor," said Edgard Alicea, finish manager, SOLLiD Cabinetry. "Quality is one of the biggest reasons for our success, so we knew we needed to find a different solution."
"In identifying Sherwin as a potential new partner, we found that not only were they able to provide us with high-quality, consistent coatings, but their technical support and locality allowed us to ramp up  new products quickly," he said.
Edgard notes that Sherwin-Williams' on-demand technical support from local service technician Gabe Matherly is another differentiator that has allowed SOLLiD to elevate its quality commitment.
"One of the biggest benefits of working with Sherwin-Williams is the relationship we've established with Gabe," Edgard added. "Our previous vendor was states away, leading to slow turnaround times for service.  Gabe is at the plant three to four days a week—I can call him anytime, he'll respond quickly. With his help, we're able to swiftly resolve any issues with minimal interruption to our operations and production goals, and we can be certain we're maintaining consistent quality with every cabinet that comes off the line."  
In identifying Sherwin as a potential new partner, we found that not only were they able to provide us with high-quality, consistent coatings, but their technical support and locality allowed us to ramp up new products quickly.
Meeting Color Demands
In meeting contemporary needs, the SOLLiD team must be able to deliver a variety of on-trend color options for its customers. Sherwin-Williams' service and support has helped the team stay agile while delivering such needs.  
"We offer a lot of custom colors, and we often need to get those orders ready quickly," said Edgard. "Sherwin-Williams has been able to meet our pace, and can often get us the coatings we need, same day, ready to use, while upholding our confidence in the quality and consistency of the color."
The complete color solution has also made the coating process more efficient.
"We used to get base coatings and then mix colors in house," said Matt Verhoeven, systems engineer, SOLLiD. "To be able to take that out of the equation is huge. That had been one of the finishing department's biggest headaches—now we can focus on hitting our output targets and building greater efficiency into our process."  
Gaining Efficiencies
"When Sherwin-Williams is here, we're working together to achieve the same goals," said Rick Stewart, plant manager, SOLLiD. "They do a tremendous job of helping us brainstorm, identify issues and solve problems."  
Sometimes even simple adjustments can lead to major savings. For example, while observing a staining and clear coat line, Gabe noticed employees following a procedure that involved excess flushing—which was generating 30-45 extra gallons of waste per day. By correcting the issue, waste dropped to nine gallons per day, saving SOLLiD approximately $90K annually via lower consumption of flushing solvent and dramatically reduced waste removal costs.
"That's the kind of value they have brought to our business," said Justin. "We have a lot of moving parts, and they all have to go right for us to take care of our customers. And we have complete confidence that our paints and stains will always be taken care of."
Technical Support
Read more about how our services can help your business operate more productively and maximize throughput.
Learn More