SKU Rationalization for Lacquer Ranges - Coatings & Inks Editorial
In the April 2020 issue of The Canmaker Magazine, the editor explains how the Packaging Coatings division of Sherwin-Williams is helping customers by developing non-BPA platform technologies, under the umbrella brand valPure®. These technologies work across different beverage and food can applications, therefore reducing the number of SKUs in inventory. Learn more about these polyester and non-BPA epoxy-based valPure products.
Article summary of SKU Rationalization for Lacquer Ranges, appearing in The Canmaker Magazine, April 2020 (page 55).
Skip carousel content
Discover More
Industry Expertise and Innovation
See how Sherwin-Williams Packaging Coatings helps customers find customized solutions for their projects.
​ ​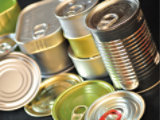 Cutting-edge Non-BPA* Epoxy technology already available for Beverage Can Interior, Beverage End Interior, Food D&I Interior, and Food Exterior applications.(V70 Series)