Valspar Packaging Award-Winning Innovation, valPure V70
NOTE: Valspar was acquired by The Sherwin-Williams Company June 1, 2017.
Valspar won the Bronze Metpack 2017 Innovation Award for valPure® V70. The award was judged on "innovative content, cost savings and improved quality."
Flavio Marchi, Global Marketing Director for Packaging Coatings, described the honor of being the first coatings company to win the award. The line of valPure V70 coatings, which are non-BPA, deliver the same performance of an epoxy, while meeting safety requirements. Learn more about how the division is pushing the boundaries of technology within the packaging industry.
Article Summary of Valspar Packaging Award-Winning Innovation, valPure V70 appearing in CanTech International July 27, 2017. Retrieved from https://www.cantechonline.com/product_profile/12535/valspar-packaging-award-winning-innovation-valpure-v70/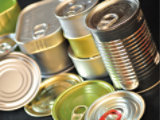 Cutting-edge Non-BPA* Epoxy technology already available for Beverage Can Interior, Beverage End Interior, Food D&I Interior, and Food Exterior applications.(V70 Series)