Food & Beverage Plant Maintenance Turnaround
Careful planning is key to rapid return to service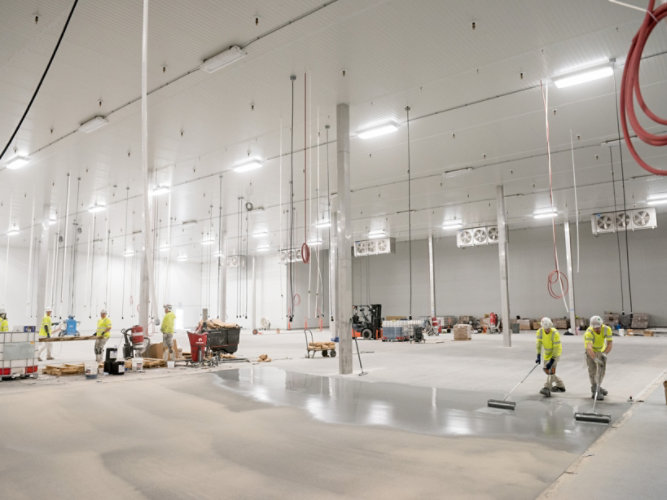 In the food processing industry, time is of the essence from production operations to facility maintenance. Uninterrupted plant operations are critical to meeting production goals. That leaves little time for maintenance activities to take place without disrupting operations. Proper planning and preparation for any project is necessary to ensure the facility is back online in the allotted time frame to ensure the plant achieves its production goals. Whether the project is planned or is an unexpected emergency, facility owners and operators require streamlined maintenance plans that allow them to quickly address repairs so they can rapidly return to service.
When maintenance activities are related to coating systems for ceilings, roofs, structural steel, walls and floors, a common facility goal is to complete the work during a specific shutdown period – oftentimes in a 48- to 60-hour window that may run from midnight on Friday or Saturday after sanitation leaves to 5 a.m. on Monday, unless it is a holiday weekend or a longer planned shutdown (Figure 1). Such projects require careful planning from assessing and understanding the scope of work to selecting the correct products to contracting labor. The best laid plans for a successful project include a number of variables and offer the ability to accelerate or postpone certain activities if needed. Most importantly, they aim to minimize facility downtime and disruptions.
Plan Ahead: Managing Project Variables
The first step to any successful project is to develop a plan for everything – including potential surprises. Doing so requires a full evaluation of the area that will be restored or repaired; considering every variable from the room's function to how it will be cleaned. Such evaluations are best completed in consultation with a coating's manufacturer representative and the installing contractor. Having knowledgeable coatings experts involved will help facility maintenance teams address every important variable that may affect material selections, repair procedures, safety protocols and completion of work in the necessary timeframe.
Among the numerous variables to consider, critical factors include:
Operating Environment: Protocols will be dictated by the type of facility or area(s) being prepared and coated. This includes surface preparation, product selections and application. For example, a wide-open storage warehouse may have fewer restrictions compared to a wet processing area (Figure 2).
 
Existing Conditions: Assessing the area's condition will help the project team plan appropriately for all anticipated repairs. A deteriorated floor may require a complete removal and reinstallation, including concrete repairs. Such repairs will need to be accounted for in the project timeline and budget since coatings should not be applied to weakened substrates.
 
Substrate Type: Understanding the substrate will help determine the right products for long-term performance. Steel ceilings and structural members may require a surfacing compound to fill in any pitting corrosion prior to the application of coatings. Wall substrates may include concrete block, drywall, glazed block, stainless steel or even insulated metal panels (IMPs) (Figure 3). Each substrate may require a different type of preparation and coating solution based on its existing condition, the cleaning parameters, return to service requirements and environmental conditions.
 
Surface Preparation: In many food processing operations, facilities do not permit abrasive blasting on surfaces to prepare them for coating applications. Vapor, dry ice or sponge blasting may be good alternatives if abrasive blasting is not approved. Hand and power tool cleaning, such as grinding, is usually approved. Areas that only allow for hand and power tool cleaning for preparation of substrates may require coatings that can be applied to marginally prepared surfaces. Flooring surface preparation is dictated by the International Concrete Repair Institute (ICRI) Guidelines (Figure 4). These include but are not limited to surface preparation, coatings selection and application procedures for the system being installed.
 
Installation Conditions: Environmental conditions for the application of coatings is also an important consideration. Factors such as time, temperature, humidity, moisture content, substrate and substrate condition can play important roles in product selection.
 
Cleaning Protocols: Specifying the right coating will ensure long-term performance against the cleaning methods that are used, including dwell time, chemical concentrations, and the temperatures and frequency of washdowns. If any cleaning practice changes, whether using a new chemical, increasing concentrations, changing the frequency or temperature of cleaning operations, or increasing contact dwell times, the coating should be requalified.
 
Certified Contractors: Identifying a suitable contractor to complete the specific scope of work is a critical step. Owners can have specific selection criteria for contractors working in their facilities. Selecting a contractor that has previous experience with projects of similar size and scope is preferred. This could include the type of environment, owners' expectations and meeting allotted timelines. It is also important that the contractor has the necessary equipment and technical expertise to install the high-performance coating and flooring systems.
Completing a Turnaround
A successful food and beverage facility maintenance project relies on the factors addressed above from assessing the project and selecting products to contracting labor and planning for contingencies if any steps encounter delays. When these considerations are thoroughly evaluated and executed, a timely, streamlined project with a fast return to service can be expected.
Figure 1. Food processing facilities can complete restorations of ceilings, structural steel, walls and floors over a weekend so operations can resume in time for Monday's first shift.
Figure 2. A wide-open open environment with few obstacles will likely have fewer restrictions for surface preparation methods, containment needs and coating applications compared to a room in which those activities present contamination potential to food products.
Figure 3. Wall substrates may require different types of preparation and coating solutions, making consultation with an expert helpful in determining appropriate coating protocols.
Figure 4. International Concrete Repair Institute (ICRI) guidelines determine the appropriate concrete surface profile (CSP) required to install various flooring systems. Applicators and inspectors use CSP coupons to rate the surface preparation.
Explore our industry solutions to ensure compliance and durability from ceilings to floors.
LEARN MORE
Find out more about our innovative coatings for a variety of industries.
FIND A PRODUCT