Stadium and Arena Seamless Floor Solutions
Durable, decorative resin floor solutions for concourses, concessions and washrooms
Whether you need decorative flooring systems with extensive color options and design styles, or seamless resinous flooring options for public walkways, stairways and bathrooms – our solutions deliver excellent resistance to wear and can also incorporate slip-resistant surfaces to enhance visitor safety. Sherwin-Williams systems are impervious and resistant to stains and chemicals, helping spills stay on the surface and get easily cleaned to help maintain a safe environment.
Contact a Resinous Flooring Expert
FACILITY SOLUTIONS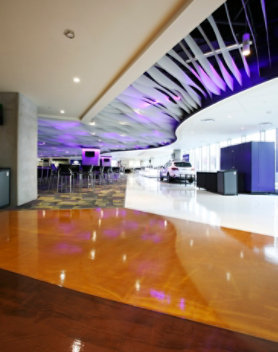 Why Resin Flooring for Stadiums and Arenas?
Designed to Perform
Unlimited color and design options to complement architectural themes and team colors
Non-slip, seamless surfaces enhance visitor safety
Solutions for concessions, lobbies, public walkways, stairways and bathrooms
Withstand heavy foot traffic and machinery
 
Skip carousel content
Discover More
Industry Expertise and Innovation
See how we help customers find customized solutions for their project and application challenges
Find out more about our innovative floor systems for a variety of industries.
FIND A SYSTEM