Fire Protection for Steel Reaches New Levels
A breakthrough in fire protection from Sherwin-Williams Protective & Marine Coatings is offering a combination of durability and ultra-fast curing not previously possible.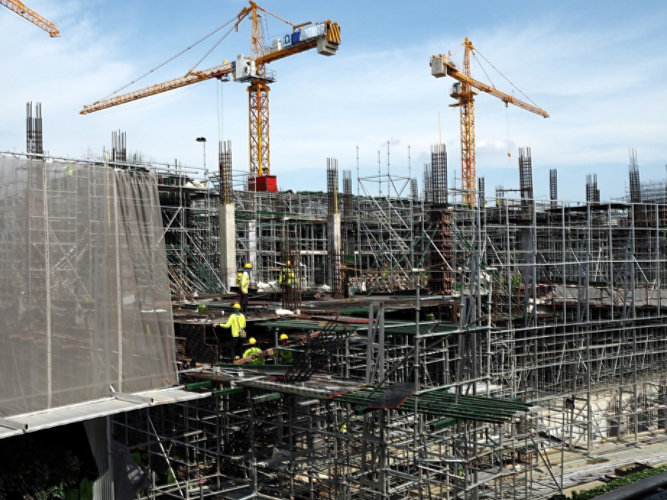 BOLTON (October 17, 2010) – In most environments 20 years durability can be achieved with FIRETEX®  FX6002 intumescent coating, even without the need to apply a top coat. The most significant benefit of this new product however is the speed of curing - hard dry and handling times may be as fast as one hour.
Bob Glendenning, global fire engineering manager for Sherwin-Williams Protective & Marine Coatings, said: "With the substantial advances we have made in intumescent coating technology, we can offer a broader range of benefits and options than ever before whether you're an architect, a developer or an applicator. In modern construction, speed of build is critical and this product contributes to that goal.
"This is game-changing technology and allows for transport of steelwork within hours as compared to days currently for conventional water-based, solvent-based and epoxy-based products."

"Projects carried out using the original FX6000 product found vastly reduced damage on shop-painted steelwork once erected. The new FX6002 retains this mechanical durability while at the same reducing the required film thickness, again reducing holistic project cost due to lower material requirements and greatly reduced site touch-up requirements."

For in-shop applicators of intumescent fire protection, FX6002 has Volatile Organic Content (VOC) levels comparable with many of today's water based intumescent products, it also dries to leave a smooth and aesthetically pleasing finish, worlds apart from that typically achieved with some other exterior durable products.
Additionally, when looking to optimise project costs, in many scenarios FX6002 may be specified with or without both primer and top coat depending on the project and applicator's requirements.
Rigorously fire tested under the requirements of British Standards BS476 parts 20 and 21, and the ASFP Yellow Book (Edition 5), FX6002 can offer up to 120 minutes fire protection to traditional rolled steel elements and cell beams.

When coupled with the expertise of the Fire Engineering & Estimation Team in prescriptive and fire engineered solutions, and Sherwin-Williams' independently accredited FDE software, FIRETEX FX6002 can be fully integrated into a project's design model and BIM operations, offering customers a safe and cost-optimised fire protection solution.

FIRETEX FX6000 technology was recently applied to Whitechapel Station in London, bringing benefits in time and cost, and proving its worth for on-site application.

Trials of FX6002 have already proved successful, and environmental approvals are being sought from leading organisations including building and sustainability body BREEAM.

Sherwin-Williams has supplied its diverse range of fire protection coatings to a number of landmark construction and engineering projects including London's The Shard, the Leadenhall Building and Azerbaijan's Flame Towers.

The fire protection performance of the patented FIRETEX FX6000 and FX6002 technologies are independently certified under Exova Warringtonfire's Certifire scheme and in durability testing under ETAG 18 Part 2 it meets the requirements for Type X, internal, semi-exposed and exposed locations.

FIRETEX®  FX6002 intumescent coating is now available through the extensive Sherwin-Williams distribution network globally. Click here for more information.
We're here to ensure your entire project is running smoothly and efficiently.
LEARN MORE
Find out more about our innovative coatings for a variety of industries.
FIND A PRODUCT