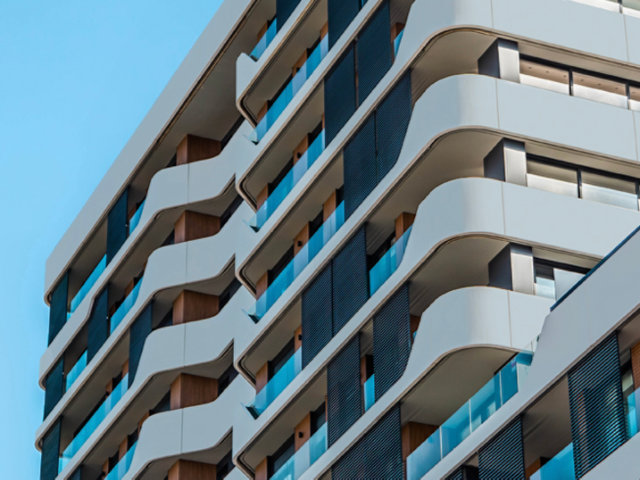 Upward is our 2024 Color of the Year.
Get inspired by Upward, a color that invites tranquility and a sense of optimism. The 2024 Color of the Year is a calming and uplifting blue that encourages gentle forward momentum.
What is Color of the Year?
Upward captured the attention of our color experts, a result of their relentless observation and researching of trends. The result is our 2024 Color of the Year, which embodies a breezy tranquility that will be popular with homeowners, designers and architects alike.
Build something beautiful.
Our 2024 Color of the Year is perfect for your next project or product. For architects and product manufacturers, Upward will bring a sense of possibility and clarity to your vision, creating an aesthetic that remains fresh for years to come.
Explore the different material options available:
Or browse our online color options below.

UPWARD
SHERWIN-WILLIAMS 2024 COLOR OF THE YEAR
Upward is a breezy, blissful blue that brings timeless lightness and total tranquility to spaces where fresh ideas can take flight. Ever ascending, the relaxed and carefree color inspires moments to pause and reconnect with the creative spirit.
Our 2024 Color of the Year is suitable for a wide range of uses — from window frames to wall panels to residential siding, to name just a few — making Upward the perfect hue for your next project. Used as an accent or all over, for exteriors or interiors, the airy and transitional blue of Upward inspires meditative spaces of limitless possibility and absolute peace in both residential and commercial settings. A vision for an uplifting new era, this calming shade of blue has the power to inspire, energize and elevate design in a variety of coil and extrusion applications.
Color Codes: Extrusion 396B6512 and Coil 436B4274
Match your vision.
From beautiful sparkling metallic to a stunning matte finish, Redend Point is an intriguing neutral that simultaneously invites adventure and familiarity to any product or project. You can specify these colors in multiple finishes such as Fluropon, Illumipon for coil and extrusion in a wide variety of special effects including Kameleon and Nova. It is also available in our WeatherXL and WeatherXL Crinkle Finish coating system.
Available in: Matte, Low Gloss, Low Sheen, High Gloss, Mica/Metallic, Nova, Kameleon, Texture and Prints.