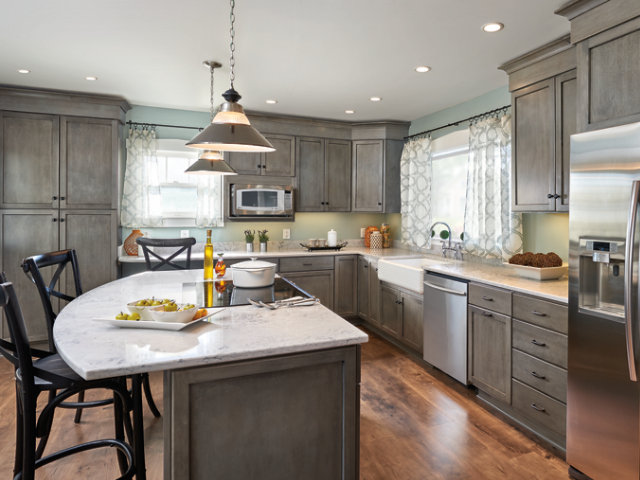 Haas Cabinet
Incorporating high-quality products and innovative technology into their manufacturing operation, Haas Cabinet streamlined processes and enhanced their competitive edge.
In a relationship-based industry, Haas Cabinet is agile and responsive to their customer base, which enjoys buying from a family-owned and American-made business. The Sellersburg, IN-based company produces a broad selection that ranges from stock to robust semi-custom cabinets, both of which are finished with the same high-quality coatings. Now, the cabinetry manufacturer is able to maintain a new level of certainty in their finishes – supplied by Sherwin-Williams.
ESTABLISHING PIVOTAL RELATIONSHIPS
For more than 50 years, Haas worked with the same coatings supplier, but made the switch to Sherwin-Williams after members of the industrial wood sales team showed the ability to anticipate customer needs and provide real solutions to issues faced in daily production processes.
Recognizing that Haas' competition had upgraded their products, Sean Connors, a Sherwin-Williams Wood Coatings Sales Representative, began to reach out to the potential customer – pitching value-based solutions that included new coatings and technologies.
"The first time I'd ever spoken to Sherwin- Williams, I came away thinking, these guys care, they know what they're talking about, and they're not afraid of telling us how to adjust," said Bryant Haas, Vice President of Sales at Haas Cabinet.
FORMULATING THE ULTIMATE SOLUTION

Collaboration with the cabinet manufacturer began when Connors worked with Haas on their interest in water-based stains to assist with uniform color appearance and reduce throughput time. The service and support from Sherwin-Williams then led to identifying a UV coating solution that worked best on the company's finishing line.

To solidify new finishes, Sherwin-Williams committed to finding solutions that met the company's needs – refusing to give up even when facing formulation challenges.
Sherwin-Williams Sales Technical Services Representative, Mike Albert, formulated and tested 21 stain colors for six months to achieve the desired color and effect before locking down a formula. Additionally, Alex Blahnik, a Field Technical Scientist at Sherwin-Williams, worked with the UV lab to test several formula variations over a 12-month period to discover ideal solvents needed for proper application window, build, and appearance.
"The people that show up from Sherwin- Williams are all very professional, they all know what's going on, and they know the answer or are very good about getting the answer right away," said Mike Brown, Product and Quality Director at Haas Cabinet.
The people that show up from Sherwin-Williams are all very professional, they all know what's going on, and they know the answer or are very good about getting the answer right away. It's been great to have the responsiveness and timeliness that we've gotten from Sherwin-Williams.
ALMOST NEXT DOOR
Sherwin-Williams also introduced Haas Cabinet to advanced technology to streamline their manufacturing process. The SHER-WOOD® HB Pigmented Conversion Varnish – identified as the best fitting solution for Haas' pigmented line due to its simple two-coat and self-seal system – can be used in tandem with the Color Express™ system, resulting in batch-to-batch consistency and quick turn times for custom colors.

"Sherwin-Williams has been very up-front and very willing to provide whatever access we need in terms of people and knowledge," said Brown. "They have helped us a great deal with advancing both products and new technology."
With the Color Express™ program, Haas has access to accurate and repeatable colors, which can be supplied within a day or a few days, due to their proximity to the Sherwin-Williams facility in Jeffersonville, IN. "For paint, we have a new level of confidence," said Bryant Haas. "We are now back after those A-level customers and those bigger paint projects."
As a full service supplier, Sherwin-Williams also provides touch-up material through Finish Repair® for Haas, and upgraded their paint lines to Sames Kremlin Micromix 2K systems – which were installed earlier this year.
Together, Haas Cabinet and Sherwin- Williams continue to think ahead with innovative ideas and plans set for the future of the cabinetry company.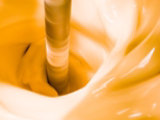 Product Solutions
Haas closely collaborated with the Sherwin-Williasm team to identify a UV solution that worked best to fit the company's needs, which included uniform color appearance and reduced throughput time. Check out our full product lineup. You may just find the right solution to your biggest finishing challenges.
Learn More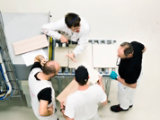 Technical Support
Haas relied on Sherwin-Williams technical service and lab support when it came to testing and locking down a formula that would work optimally on their finishing line. Through our technical service support, we're committed to helping our customers operate more productively.
Learn More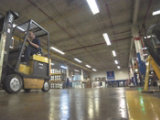 Local Service
With the Color Express program, Haas has access to accurate and repeatable colors, supplied just-in-time, due to their proximity to Sherwin-Williams Jeffersonville facility. With a facility network that spans North America, we're committed to getting our customers what they need, when they need it.
Find a Location