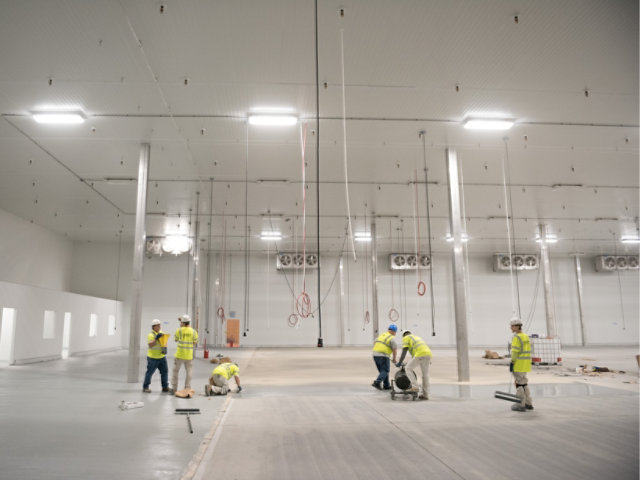 High Performance Flooring System Families
Get to know our systems by chemistry and use including epoxy, elastomeric, urethane concrete and high-performance integrated wall solutions. 
Selecting a Flooring System
When faced with the challenge of protecting a concrete floor, evaluating the potential options can be a rather daunting task. Four factors that have a bearing on any flooring choice are performance characteristics, aesthetics, scheduling, and budgeting. Before examining each factor, explore this brief overview of our seamless flooring systems.
Resuflor™ Epoxy Systems
Highly durable, long-lasting seamless systems for commercial and industrial use
Resuflor Aqua - Water-based systems provide efficient solutions to MVE challenges while meeting performance criteria. Contain low VOCs and emit low odors for reduced environmental impact.
Resuflor Deco - Multiple decorative options featuring vinyl flake or colored quartz aggregate in addition to solutions for static dissipative needs.
Resuflor Screed - Options for decorative or industrial troweled mortar and malleable floor systems including solutions for a conductive, sparkproof system.
Resuflor Terrazzo - Decorative troweled mortar flooring system combining high-solids, pigmented epoxy resin with colored marble, granite chips or other approved aggregates.
Resuflor Topcoat - Hard-wearing systems with aesthetic appeal designed for aircraft hangars, manufacturing and service environments that require chemical and abrasion resistance.
Resuflor Topfloor - Multiple solutions for a range of epoxy flooring needs including high build industrial applications and mechanical equipment rooms.
SofTop® Comfort Elastomeric Systems
Ergonomic, flexible and sound absorbing with a modern finish
SofTop Deco Flake BC -  Thick resinous floor which provides a soft, quiet and decorative appearance but is also chemical, impact and chip resistant. 
SofTop TG - Flexible epoxy resin combined with colored rubber chips in a troweled mortar system.
SofTop Topfloor BC -  Flexible epoxy-based system that provides noise reduction, an ergonomic yet impact resistance floor. Ideal for industrial applications.
FasTop™ Urethane Concrete Systems
Fast installation, long-lasting performance with rapid-curing systems
FasTop Deco Flake - Decorative, heavy duty floor combines a fast-curing base material with mosaic broadcast. Ideal for pharmaceutical, research and biotech applications. 
FasTop Deco Quartz - Decorative, cementitious urethane self-leveling slurry with color quartz broadcast for use in warehouses, aircraft hangars, manufacturing facilities and garages.
FasTop Multi - Polyurethane, hygienic, chemical and slip resistant flooring systems ideal for food and beverage facilities, chemical plants and industrial applications.
FasTop Topcoat - Provides anti-slip properties with a texture that is easier to clean than a full aggregate broadcast while maintaining thermal shock, chemical attack and abrasion resistance.
FasTop Topfloor - Multiple options for self-leveling, light to moderate use settings or moisture control.
Resuwall™ Wall Systems
Smooth and continuous films ensure cleanable surfaces
Resuwall - Water-based high build wall and ceiling surfacing systems utilizing an epoxy base coat and an optional water-based polyurethane as finish coat for color stability.  
Resuwall Aqua GR - Multi-layer, high-build wall and ceiling surfacing systems utilizing an epoxy base coat with fiberglass mesh reinforcement added for dimenionsal stability and greater durability. Water based systems with a long pot life for ease of application.
Resuwall Deco Flake - Wall system consisting of water based epoxy resins and small multi-color color flakes to enhance design while maintaining ease of cleaning and chemical resistance properties.
Resuwall FR - Fiber reinforced epoxy resin system designed for application to walls and ceilings in demanding environments such as food processing and pharmaceutical facilities.
Resuwall FX - Multi-layer, high-build wall system utilizing two coats of a flexible epoxy membrane as a base and a high solids urethane enamel topcoat for chemical resistance, color and gloss retention.
Resuwall GR - Multi-layer, high-build wall and ceiling surfacing systems utilizing an epoxy base coat with fiberglass mesh reinforcement added for dimensional stability and greater durability. 
Explore our flooring solutions designed for form, function and performance.
LEARN MORE
Find out more about our innovative coatings for a variety of industries.
FIND A PRODUCT