FEATURED ARTICLE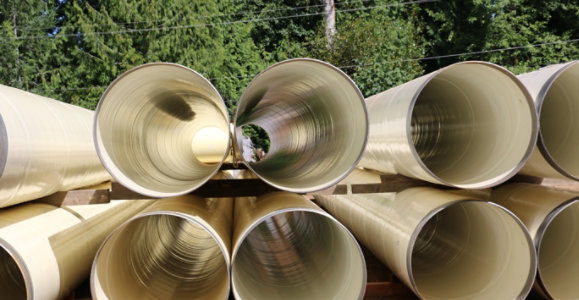 Rapid Return-To-Service Water Transmission Pipe Coatings Achieve Quick Turnaround for Comox Valley
Water transmission pipe interior and exterior coatings from Sherwin-Williams enable fast throughput for Comox Valley Regional District (CVRD) Water Treatment Project in British Columbia, Canada
Read Full Article
High-performance pipe linings to protect potable water and sewer lines inside and out, maintaining high uptime and minimizing maintenance costs.

A two-component, edge-retentive, ultra high-solids epoxy amine coating, engineered for immersion service in potable water pipes and storage tanks

A two-component, aromatic polyurethane, formulated to provide optimal build properties and aesthetic properties
Skip carousel content
Discover More
Industry Expertise and Innovation
Find latest news, industry thought leadership and product information.
FEATURED SOLUTIONS
Oil & Gas: Corrosion Under Insulation
The Dangers of CUI and Protective Coatings to Fight It
Corrosion under insulation (CUI)  — a hidden danger lurking in the bends, flanges, elbows and the underside of pressure vessels/lower course of tanks  — is the number one challenge that oil & gas downstream facilities face when it comes to unplanned downtime and the reduced lifecycle of their assets. 
Thomas Crenshaw, Sherwin-Williams Oil & Gas Project Development Manager, explains the warning signs of CUI and how to help mitigate the risk of hidden corrosion with protective coatings.
Our comprehensive line of ambient and heat-cured high temperature resistant coatings.

Our corrosion experts discuss all the facts to make decisions on epoxy phenolics for CUI prevention.
Video
April 22, 2021
H2O Rant: Water Tank Overcoats
A common mistake that contractors make when overcoating tanks is using too many coats. The recommended overcoating solution? Less is more, thin to win. Learn about proper application and expected lifespan for your next tank overcoating project.
WATCH NOW
Sherwin-Williams Protective & Marine delivers world-class industry subject matter expertise, unparalleled technical and specification service, and unmatched regional commercial team support to our customers around the globe. Our broad portfolio of high-performance coatings and systems that excel at combating corrosion helps customers achieve smarter, time-tested asset protection. We serve a wide array of markets across our rapidly growing international distribution footprint, including Bridge & Highway, Fire Protection, Flooring, Food & Beverage, Marine, Oil & Gas, Power, Rail, Steel Fabrication, and Water & Wastewater.