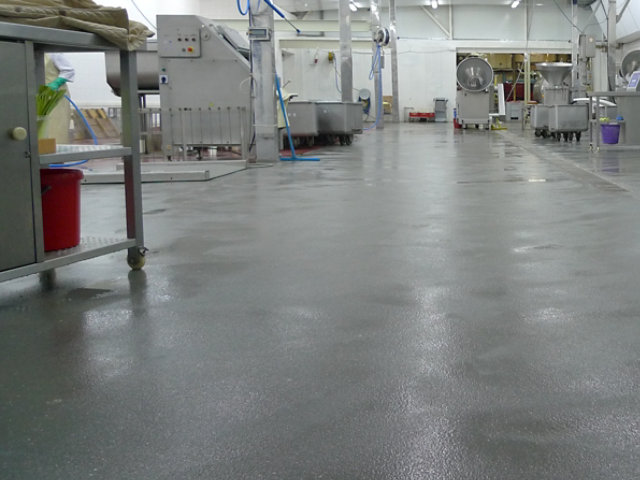 Food and Beverage Flooring
Hard-wearing, hygienic food & beverage processing floor coatings
Seamless floor coatings and systems from Sherwin-Williams contribute significantly to staff safety due to their uniform surface, a stark contrast to the grouted quarry tile and dairy brick commonly found in various food and beverage settings. These systems further bolster food safety by ensuring appropriate drain slopes in areas subject to regular cleanings, thereby preventing water from pooling and fostering bacteria. The FasTop™ seamless polyurethane floor systems offer a textured surface in both wet and dry situations and are impervious to damaging chemicals utilised in the Clean-In-Place (CIP) process, such as caustic soda, nitric and phosphoric acid.
Flooring Solutions for a Broad Spectrum of Food & Beverage Processing Facilities
Benefits of Sherwin-Williams Flooring for Food Manufacturing and Processing Plants
From food processing and packaging facilities to beverage production and bottling plants, the food and beverage sector necessitates robust flooring solutions that can endure wet conditions, maintain safety standards, and facilitate easy cleaning and maintenance. For durable flooring solutions in food and beverage facilities, look to Sherwin-Williams.
Sherwin-Williams floor coating systems offer a validated solution for the food and beverage industry, featuring benefits such as:
Moisture-tolerant to promote hygiene and food safety
Capable of withstanding specific chemicals, acids, alkalis, and temperatures present in your food or beverage processing plant
Flooring material can be sloped towards the drain, with an integral cove-to-wall base, facilitating easy wash-down
Expands and contracts at a rate closely matching that of concrete, ensuring solid bonding even during extreme temperature fluctuations
Quick turnaround time that fits well within your production schedule
Possesses antimicrobial properties
Slip resistance is available and can be tailored for different areas of the plant floor
Decorative elements, such as coloured chips or coloured quartz blends, can be incorporated into selected areas
Coatings approved by the USDA
Find out more about our innovative coatings for a variety of industries.
FIND A SYSTEM