Crew Restores 145-Foot Water Storage Tank, Managing Severe Time Constraints and FOD Concerns
HCI Industrial & Marine Coatings Inc. restored the interior and exterior of this 4.5 million-gallon water tank in record time.
The project team faced a double set of challenges when undertaking the restoration of a water tank for Mukilteo Water and Wastewater District at Paine Field in Everett, Washington. For the interior of the tank, the crew had to be in and out within 50 days. For the exterior of the tank, the crew had to guard against overspray and the adjacent airport's foreign object debris (FOD) requirements.
Tank Interior
Situation: HCI Industrial & Marine Coatings had to abrasive blast and coat the 50,000-square-foot interior of a 4.5 million-gallon potable and fire water storage tank within a timeframe set by municipal agreement. The tank, which supplies a fire suppression system for an adjacent aircraft manufacturing facility, could can only be taken out of service for about eight weeks every three years. HCI would face a $3,000 fine for every day the tank would be out of service beyond the 50-day time period.
Execution: First, HCI abrasive-blasted the steel to the SSPC-SP10/NACE 2 Near-White Blast Cleaning standard, using a 40,000-CFM dust collection unit to contain dust and debris and meet foreign object debris (FOD) management requirements. Next, crewmembers applied Sherwin-Williams Steel-Seam FT910 epoxy to fill in any interior pitting found on the steel substrate.
For the tank lining, crewmembers first spray- and back-brush-applied a stripe coat of SherPlate PW Epoxy on all weld seams, edges and irregular surfaces to ensure complete coverage. Next, they immediately spray-applied a 25- to 35-mil dry film thickness (DFT) topcoat of the SherPlate system in a single coat for an efficient application.
The SherPlate system's pot life of seven minutes helped with application efficiency, allowing HCI to spray 145 feet in the air with minimal worries related to spray guns or hoses clogging from exothermic reactions. The originally specified epoxy lining material had a pot life of just one minute, which prompted HCI to ask the engineering consulting firm, Gray & Osborne Inc. (G&O), to change the specification so applicators would have more time to spray.
Outcome: Because of careful planning and wise coating choices, HCI was able to complete the interior restoration ahead of schedule. Mukilteo Water and Wastewater District (MWWD) returned the tank to service after 47 days. With periodic inspections, the restored tank lining is expected to last more than 20 years.
Tank Exterior
Situation: HCI was also contracted to restore the tank's exterior, although not within the same timeframe as the interior. Because the company needed all 50 days of the out-of-service time period for the interior, applicators had to restore the exterior while the tank was full, which is not ideal because of the potential for condensation and uneven temperatures across the substrate.
Another set of challenges related to the adjacent airport, where new turbine engines were being tested. To meet the airport's FOD requirement, HCI had to fully contain debris and coating materials.
Execution: To protect the airport and the turbine engines, G&O and HCI agreed to a combination of safeguards consisting of isolated containment systems, solvent cleaning for surface preparation and manual coating methods.
First, HCI set up a full containment system around the swing stage access platforms used for the exterior restoration. In addition, the team installed a 6-foot-tall barrier fence around the project perimeter.
HCI then prepared the steel surface to the SSPC-SP-1 standard, removing all visible contaminants. This solvent cleaning method minimized any FOD potential related to abrasive blasting. Next, the crew power tool cleaned all corroded areas to an SSPC-SP-11 standard and applied a 3- to 5-mil DFT prime coat of Sherwin-Williams' Macropoxy® 646 Fast Cure Epoxy, a 1- to 1.5-mil DFT intermediate coat of Macropoxy 5000 Penetrating Epoxy Primer/Sealer, and a 2- to 3-mil DFT topcoat of Acrolon™ Ultra HS. To minimize overspray potential, the crew used rollers and brushes rather than spray-applying the coatings.
Outcome: The exterior of the tank was completed without any FOD issues at the neighboring airport. Further, HCI's and G&O's coating selections alleviated any concerns related to condensation or temperature variation on the steel substrate, as Sherwin-Williams high-performance coatings have outstanding application characteristics.
The exterior tank restoration should last beyond 15 years.
Skip carousel content
Photo Gallery
Mukilteo Water and Wastewater District Tank Restoration at Paine Field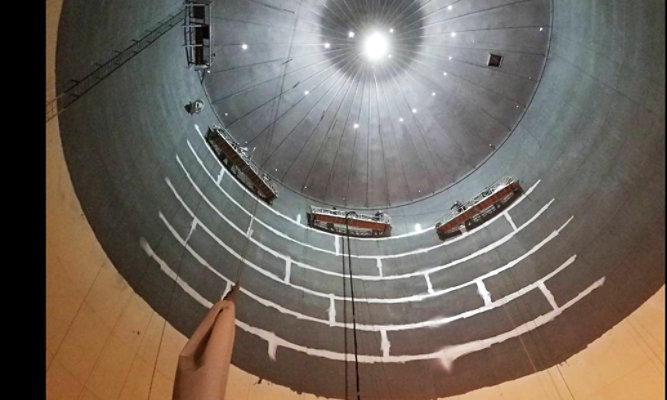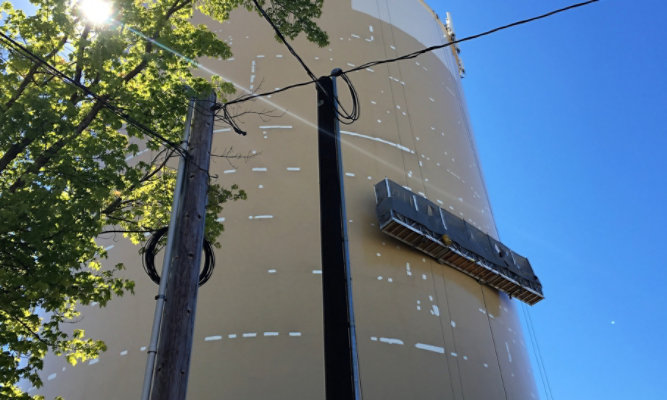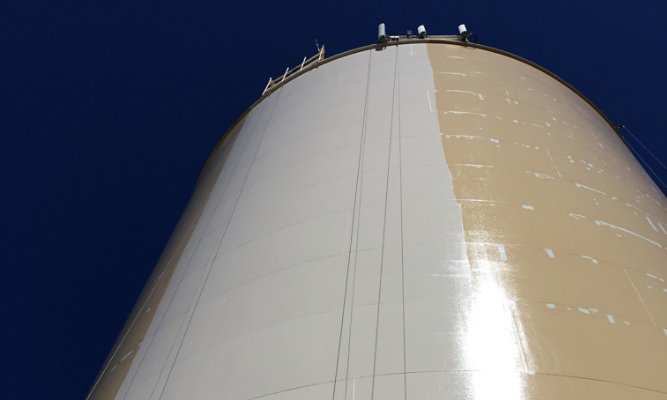 Skip carousel content
Discover More
Industry Expertise and Innovation
See how we help customers find customized solutions for their project and application challenges.
Explore our industry solutions and technology to help protect your assets.
LEARN MORE
Find out more about our innovative coatings for a variety of industries.
FIND A PRODUCT