Your Design Ecosystem
From Concept to Reality
A first-of-its-kind facility for the industrial market, DesignHouse - located in Minneapolis, MN - is a unique space where teams can collaborate, find inspiration, and receive assistance with increasing speed to market for new colors and products.

Interested in learning more? Talk with us about what DesignHouse can do for you.
Contact us
Embrace Your Newest Competitive Advantage - Color
At DesignHouse, we understand the power color has and together we can formulate coatings that have the appearance and performance you need for your products. Within this space, you can develop coatings in multiple technologies for a variety of substrates. Dedicated to collaboration and driven by curiosity, our DesignHouse team is comprised of color authorities who bring the expertise on how to produce finishes that your consumers desire.
Color is a universal language. DesignHouse provides you and your designers with full access to powder, liquid, and e-coat labs, technical teams, and Color Material Finish Consultants. The ability to collaborate in real time dramatically decreases the amount of time needed to achieve a color match, in some cases reducing the process down from six months to one week.
Explore Color and Finish
You have the power to bring color and finishes to life. Color is more than a hue, and a finish goes beyond a final touch on a product. When you become obsessed with the "what if," it mixes inspiration with innovation to create coatings that take color - and your finished products - to the next level.
What If?
Paint could look like marble?
Powder could have texture?
You could venture into the unexplored?
We could turn ideas into reality?
At DesignHouse, the color and finish possibilities are endless.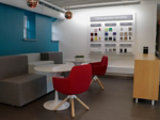 Let's Connect
Interested in learning more? Talk with us about what DesignHouse can do for you.