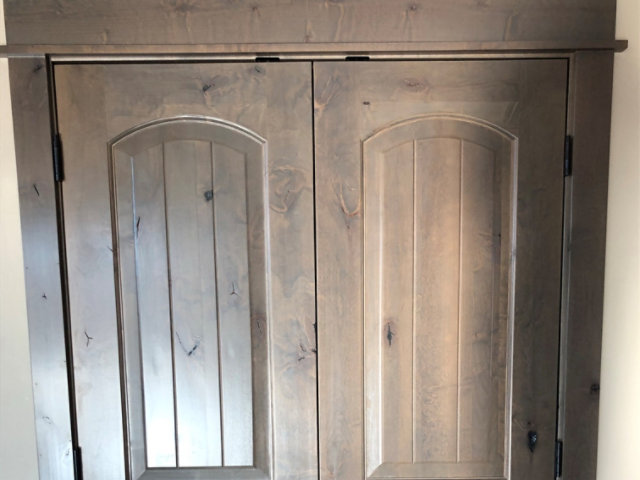 DP Doors and Millwork
Great minds think alike, but innovative minds work together. Sherwin-Williams and DP Doors and Millwork applied their forward-thinking approaches in a collaborative effort to further the success of the door and millwork company.
Dave Peterson, the owner of DP Doors & Millwork, moved to Montana in the late 90s to work as a contractor. Once there, he learned that there were no companies supplying high-quality prefinished doors, trim and custom millwork in the area. As an innovative thinker, Peterson saw a gap in the market and decided to supply to contractors rather than compete with them. He officially opened his own shop in 2001, which now services commercial and residential contractors across the state.
"Contractors can make one phone call to us, and we will take care of their whole trim package: doors, trim and any hardware," said Peterson. "They like that we're a full-service shop."
To advance their business, DP Doors & Millwork sought a coatings supplier that could meet their business aspirations head on with high-quality coatings and an innovative approach.
NEW PRODUCTS
DP Doors & Millwork connected with Sherwin-Williams at the 2019 Association of Woodworking & Furnishings Suppliers (AWFS) fair in Las Vegas. They discovered Sherwin-Williams products that could improve color consistency and reduce material usage, resulting in time savings.
Sherwin-Williams supplies DP with its KEM Aqua® BP Enamel exterior finish, which significantly helps reduce dry and recoat times. DP previously used a latex coating, which can take days to spray and recoat before a product is prepared for a contractor.
With BP Enamel, the company can hang and deliver products within four hours of initially spraying the finish. "We are able to produce a lot more product now because the coating process is a couple of days faster," said Peterson.
Sherwin-Williams also helped DP transition their previous topcoat to SHER-WOOD® 9420S LV Precatalyzed Topcoat, a high-build lacquer, which reduces the required number of coats from three to two.
"Instead of a sealer and two coats, we've cut out the sealer and now all we spray is the lacquer," said Peterson. "It's saving us from having to use two products and it's been working great."
The response time from Sherwin-Williams has really helped us so that we don't have as much downtime in the shop. That, combined with the great coatings they've supplied, has helped us to produce more products and make more money.
new methods

The technology introduced to DP started with products, and then extended into systems that Sherwin-Williams helped implement – streamlining operations, while improving turnaround time.
DP had issues duplicating stain colors with their previous supplier. As a solution, Sherwin-Williams set up a customized stain system that could match stain colors based on DP's samples. The newly developed formulas are loaded into the Aurora™ Color System to ensure color consistency anytime DP needs to replicate a stain for a customer.
"The Sherwin-Williams team got us set up with the color match system and then came down to teach us how to use the colorants and duplicate the stains," said Seth Thorson, a salesman at DP Doors & Millwork. "The new stain system from Sherwin-Williams makes it easier to recreate stain colors because we aren't constantly reinventing the stain."
DP Doors & Millwork is located eight hours from the nearest Sherwin-Williams facility. Despite the distance, Sherwin-Williams sales representative Spencer Madrigal, and technical representatives Mike Smith and Tony Kalil, worked to optimize logistics to deliver products quickly and keep coatings in-stock at DP. To ensure DP always has enough inventory, Madrigal introduced a minimum/maximum system that analyzes how much product the company goes through in a week.
"Before, we would stock 6-8 gallon drums because it would take our previous supplier eight days to deliver products to us," said Peterson. "With Sherwin-Williams, we don't have to stock as much because they're able to turn products around within three days."
new support 
In addition to product and system updates, Sherwin-Williams provides support to ensure these transitions work seamlessly. Madrigal makes the long drive at least once a month to train DP employees on how to mix and develop stains, set up automated equipment and flatline machines, and switch out spray guns to get a better finish and minimize material waste.
"The response time from Sherwin-Williams has really helped us so that we don't have as much downtime in the shop," said Peterson. "That, combined with the great coatings they've supplied, has helped us produce more products and make more money."
With exceptional communication and knowledge between the two companies, Sherwin-Williams has been able to work with DP Doors & Millwork to introduce innovations that are new to the company – enhancing its door and millwork offerings.