BPA Could Get Canned
For decades, BPA-based epoxies were the coating of choice for metal food and beverage packaging. However, in recent years, there has been a push to move away from BPA. Sherwin-Williams understood that a replacement for BPA-based epoxies would need to uphold the high-speed application and pack performance that an epoxy delivered, while removing the use of BPA. The company developed a list of possible BPA replacements and then asked academic and state research bodies, NGOs and regulators to conduct their own research and validate the proposed materials — leading to the development of valPure® V70. Find out more about this next-generation coating that delivers an epoxy performance without using BPA.
Article Summary of BPA Could Get Canned appearing in Chemical Watch, November 28, 2018. 
Skip carousel content
Discover More
Industry Expertise and Innovation
See how Sherwin-Williams Packaging Coatings helps customers find customized solutions for their projects.
​ ​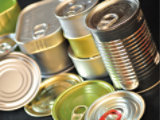 Cutting-edge Non-BPA* Epoxy technology already available for Beverage Can Interior, Beverage End Interior, Food D&I Interior, and Food Exterior applications.(V70 Series)