Delivering Nutrition, Long Shelf-Life and Protection
Michael Sawayda - global food marketing director, Packaging Coatings at Sherwin-Williams - discusses the benefits of canned foods and how coatings play a vital role in maintaining the lifespan of a can's contents. Learn more about how metal packaging helps deliver nutritious food year-round to consumers throughout the world and extends the life of fruits, vegetables, and proteins, as well as how can coatings play a critical role in delivering nutritional benefits, shelf-stability, and safety.
White paper summary of "Delivering nutrition, long shelf-life and protection", appearing in The CanTech International Magazine, December 2020/January 2021 (page 30-31).

Skip carousel content
Discover More
Industry Expertise and Innovation
See how Sherwin-Williams Packaging Coatings helps customers find customized solutions for their projects.
​ ​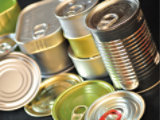 Cutting-edge Non-BPA* Epoxy technology already available for Beverage Can Interior, Beverage End Interior, Food D&I Interior, and Food Exterior applications.(V70 Series)