valOR® Barrier and Scavenger Resins - comPETence Magazine - White Paper
A recent whitepaper published in comPETence Magazine, discusses how The Sherwin-Williams product line valOR® – made up of a family of barrier and scavenger resins – provide improved process ability, delamination resistance and compatibility with PET. valOR is a direct solution to plastic permeability because the products control gas transmission through the package walls, which block porosities in PET polymers and capture undesired O2 molecules. Discover more about how these barrier and scavenger resins provide a long shelf-life for plastic packaging without significant product change.
Article summary of 3 Barrier and Scavenger Resins Enable a Longer Shelf Life for Products Packaged in PET Plastic, appearing in comPETence Magazine, March 2020.
Skip carousel content
Discover More
Industry Expertise and Innovation
See how Sherwin-Williams Packaging Coatings helps customers find customized solutions for their projects.
​ ​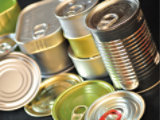 Cutting-edge Non-BPA* Epoxy technology already available for Beverage Can Interior, Beverage End Interior, Food D&I Interior, and Food Exterior applications.(V70 Series)