Coating Systems Enable Time Savings for North Dakota Water Treatment Plant Construction
Project managers for the construction of the Grand Forks Regional Water Treatment Plant in Grand Forks, North Dakota, made strategic coating selections that removed days from various applications, earning runner-up title in the 2020 Sherwin-Williams Water & Wastewater Impact Awards.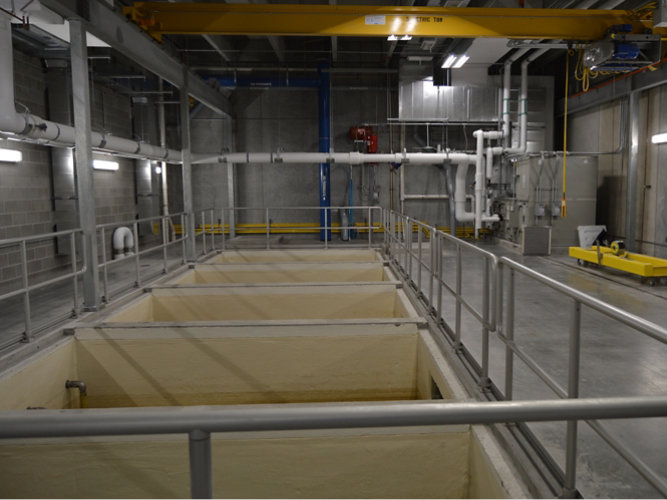 Situation
When building an expansive new water treatment plant, keeping the project timeline on track is critical. This focus on timeliness prompted project managers for the new Grand Forks Regional Water Treatment Plant (GFRWTP) to make strategic coating selections that removed days from various applications performed during the project. For example, shifting from a five- to six-coat lining system to a one-coat system from Sherwin-Williams Protective & Marine saved applicators at least an entire day for each of the five membrane bioreactor (MBR) basins they lined. That and other efficiencies ultimately saved the crew more than two weeks of lining installation time for the basins. In addition, because flooring installers were able to apply two top coat layers in the same day, they saved a day on every area coated with resinous flooring throughout the GFRWTP.

The new GFRWTP for the City of Grand Forks, North Dakota, is a $153-million endeavor designed to upgrade the city's water treatment processes and daily volume capacity. The plant features an MBR process that treats water for use in irrigation systems. The process requires periodic cleaning using citric acid and sodium hypochlorite to remove contaminants from system filters. These agents create heat and are highly corrosive, requiring MBR basins to be lined with protective coatings to preserve their concrete structures.
Execution
Options for lining MBR basins included an originally specified five- to six-coat system, which consists of a concrete resurfacer, moisture barrier, epoxy base coat, fiberglass mat and an epoxy top coat. However, this system is time consuming and labor intensive to install, requiring about three days to line a roughly 25-foot-wide by 30-foot-long basin. With all eyes on efficiency, the project team opted to use Poly-Cote™ 115 from Sherwin-Williams, as the system could be applied and ready for service in less than two days and with an easier spray application. The 100% solids, elastomeric polyurethane features optimal build properties that enabled applicators to spray the coating at the same thickness as the five- to six-coat system in a single pass. This alone represented a one-day savings per basin.
To line the concrete basins, applicators from Prior Lake, Minnesota-based Champion Coatings first sandblasted the concrete to the SSPC-SP 13/NACE No.6 standard. Next, they applied Dura-Plate® 2300, an epoxy-modified cementitious resurfacer from Sherwin-Williams, to fill in any imperfections in the concrete and create a hard, durable surface with excellent adhesion for the lining system. Further ensuring adhesion, applicators next applied a primer coat of Dura-Plate 235 to the resurfaced concrete. This layer served as a barrier to prevent moisture and air in the concrete from escaping and creating pinholes in the lining. Due to the fast return-to-service time for Dura-Plate 2300, as well as no need to complete a sweep blast on the resurfacer before coating it, Champion Coatings was able to complete the resurfacing and primer applications on the same day.
The next day, applicators applied the Poly-Cote 115 lining system, spraying the coating between 65 and 100 mils dry film thickness (DFT) in a single pass for a high-build lining that has the same thickness in one coat as the originally specified multicoat system. Using the Poly-Cote 115 lining system, Champion Coatings was able to fully line each basin within two days – and sometimes even all on the same day. Applicators would have needed at least three or more days when using the five- to six-coat system.
Continuing with the mandate for efficiency, applicators from Fargo, North Dakota-based Traill Painting installed more than 15,000 square feet of resinous flooring throughout the GFRWTP and saved a day for each area coated due to the product selection. The flooring system included a primer coat of Sherwin-Williams® 3579, covered with an intermediate coat of Sherwin-Williams 3746 High-Performance Epoxy and topped with two coats of Sherwin-Williams 4850 Polyaspartic Floor Coating SS. Application efficiencies drove the top coat material choice, as the fast-curing, high-solids polyaspartic resin allowed installers to apply a second coat within six hours after the first coat. As a result, Traill Painting could complete both top coat layers in the same day, shortening the installation timeline.
The GFRWTP project also involved applying a heavy-duty, graphite-filled lining system on a secondary containment vessel designed to capture hydrofluorosilicic acid should the material's primary storage tank fail. Applicators from Traill Painting first prepared the concrete vessel's surface to remove contaminants and then primed it with Sherwin-Williams Corobond® Vinyl Ester Primer to promote adhesion of the top layers. Next, the crew applied Poly-Glass™ Putty resurfacing compound from Sherwin-Williams to fill in any voids and bugholes in the concrete surface before applying two coats of Sherwin-Williams Cor-Cote® VEN GF to protect the containment area. Specifiers chose this graphite-filled epoxy novolac-based vinyl ester due to its resistance to hydrofluorosilicic acid.
Skip carousel content
Photo Gallery
Grand Forks Regional Water Treatment Plant Project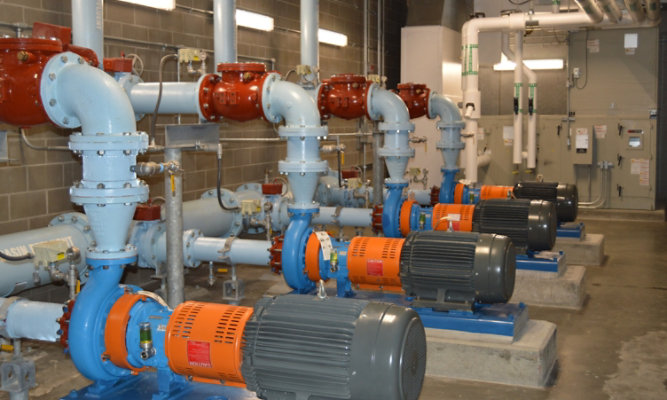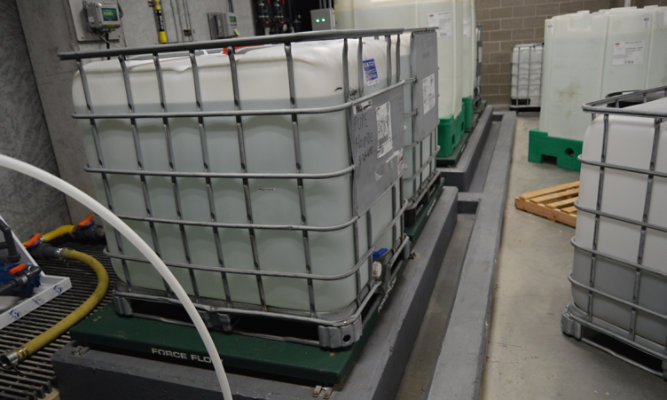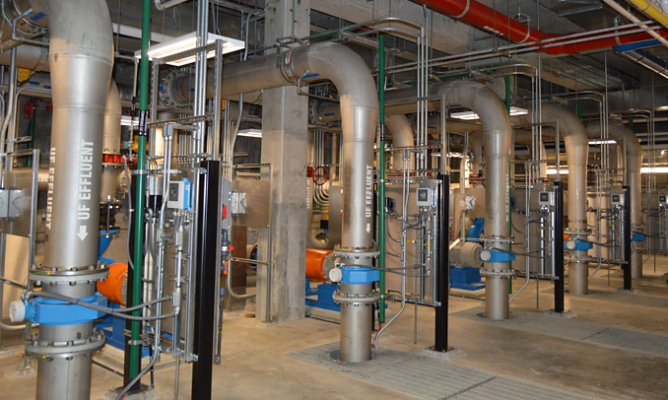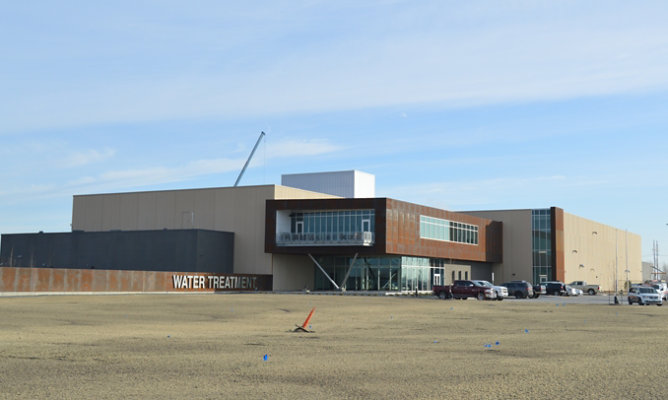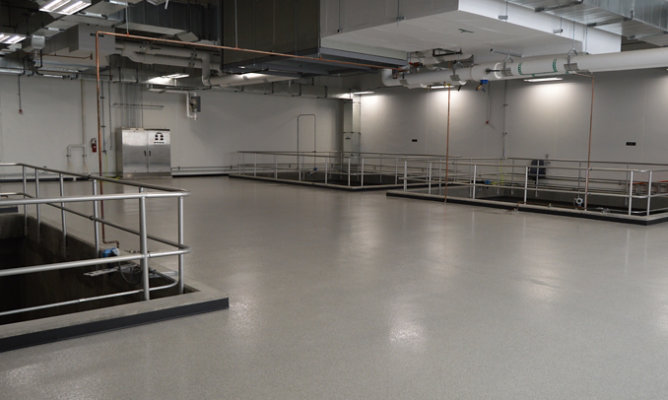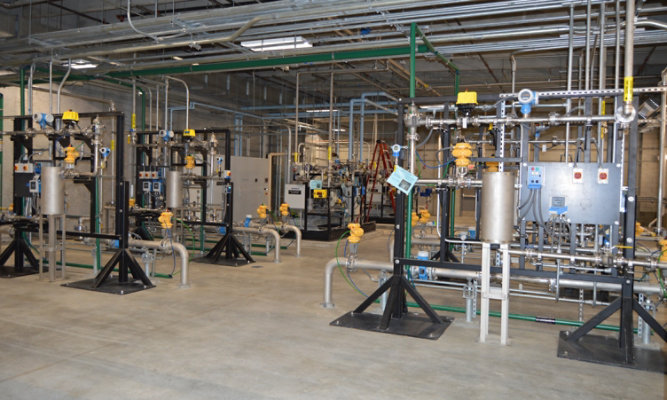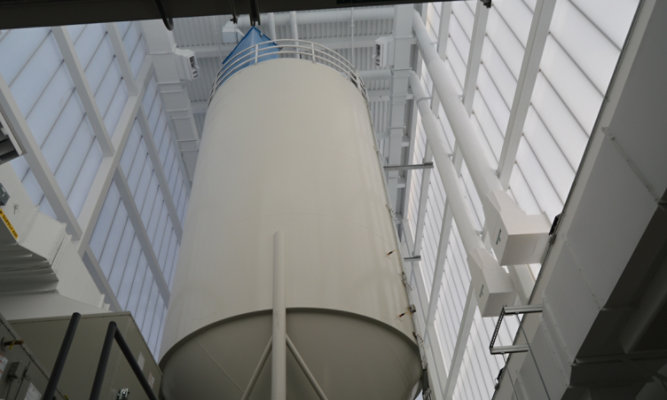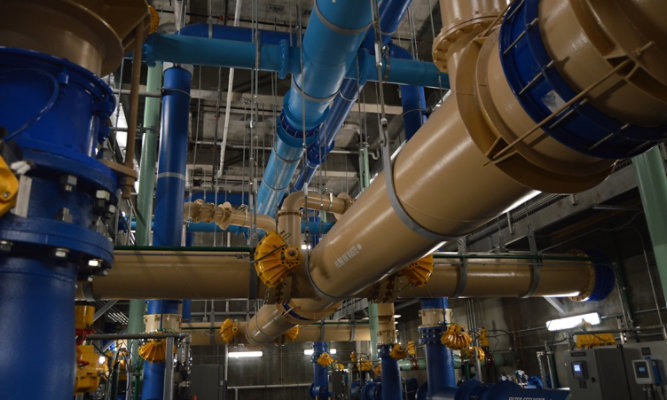 Skip carousel content
Discover More
Industry Expertise and Innovation
See how we help customers find customized solutions for their project and application challenges.
Explore our industry solutions and technology to help protect your assets.
LEARN MORE
Find out more about our innovative coatings for a variety of industries.
FIND A PRODUCT