The Future of Luxury is on Display at the T-Mobile Arena
Located just off The Strip, the new T-Mobile Arena fits well within the neon luxury of Las Vegas. But it doesn't shimmer in quite the same way as the rest of the city; its precious metals exude a warmth that says all are welcome.
The exterior is awash in colors pulled from the deserts and mountains that surround Las Vegas, giving it an honest, welcoming beauty that embodies where luxury is headed. Exclusivity is being replaced by utility, giving rise to shades and materials drawn from raw elements. Luxurious colors aren't just beautiful — they are functional.
The way the T-Mobile Arena melds multiple themes into one brilliant design makes it an ideal case study for our Future Lux color trend. It displays the traditional markers of luxury, but reinvents them in an inclusive aesthetic. It's rich tones capture the same natural, enduring qualities as Rustic Orange, one of the featured colors in Future Lux. Functionality and form are both clearly focal points of its design.
Skip carousel content
Featured Images
T-Mobile Arena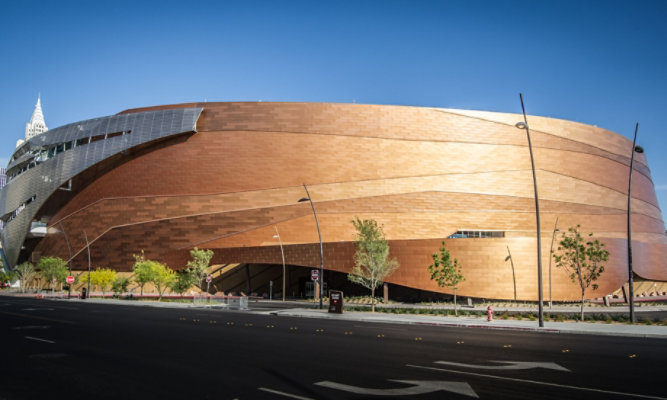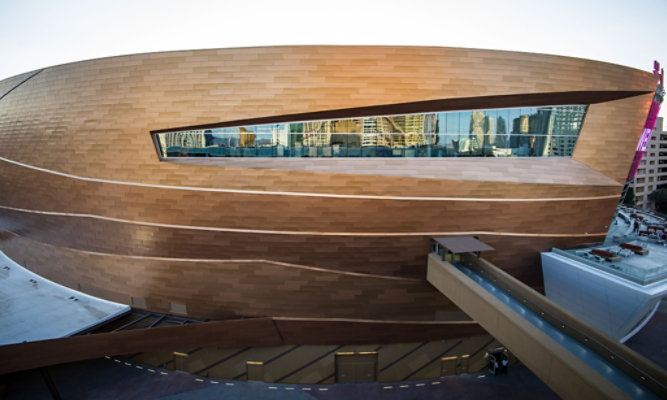 The cutting-edge, 650,000 square-foot structure doesn't shy away from opulence. One side is a shimmering glass façade composed of LED video mesh that matches the city's energy and glam. With 20,000 seats, 44 luxury suites, four balconies and a massive glass atrium, the arena is built to make a mark, but also for entertainment and experiences everyone can enjoy.
Much of the exterior is composed of custom-fabricated metal shingles in nine rustic colors that match the natural geology surrounding the city. The mixed material approach and shimmering metallic are directly in line with the modern elegance of Future Lux, while its traditional colors and materials are accessible, a must for a new luxury that favors experiences.
The bowed metals bands that spring forth are also made up of composite panels for moisture protection and thermal insulation, so they serve a function. Performance matters as much as appearance.
The T-Mobile Arena perfectly represents our Future Lux color trend. It is useful. It is beautiful. It is durable. It is precious. It is unmistakably luxury.