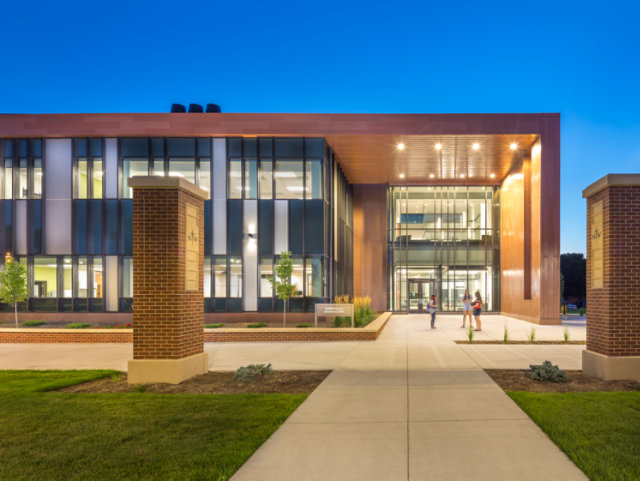 The Complete Guide to PVDF Coatings
An inside look at PVDF formulas, testing methods and application processes for coil and extrusion coatings
Explore Topics on PVDF Architectural Coatings
Today, metal coatings come in all colors, textures and patterns, and as companies continue to create innovative and technologically advanced solutions, it is no surprise the foundation of their success stems from PVDF resin-based coatings. No matter what part of the country you live in or what your profession is, chances are PVDF coatings are a part of your life without you even knowing. From barns and storage sheds, to arenas and skyscrapers, exterior metal paneling all throughout the world is clad with PVDF coating. So, what are PVDF coatings and how have they become a staple in the industry?
Polyvinylidene Difluoride (PVDF)
/noun: the fluoropolymer resin used in exterior metal coatings for durability and resistance to weathering
Originally introduced to the market in 1965, 70 percent polyvinylidene difluoride (PVDF) coatings have steadily become one of the most popular and respected coil and extrusion coatings available on the market. 
Over the last half-century, no other architectural product has more decisively withstood the test of time than 70 percent PVDF resin-based coatings. Continuous technological improvements have contributed to the longevity of PVDF, resulting in additional formulations and practices for applications that have distinct requirements. 
To develop these high-performance PVDF coatings, manufacturers created unique formulations composed of resins, pigments, solvents and additives. Widely produced by various manufacturers, PVDF coatings are branded with an assortment of trademarked names, such as Fluropon, which often makes it difficult for industry outsiders to tell coating manufacturers and resin manufacturers apart. Furthermore, despite coatings from different manufacturers often containing similar PVDF resins, the application and performance of the paint systems can vary because of the proprietary formulations of each company.
Two of the most widely recognized brands of PVDF resins in the U.S. are Hylar® by Solvay Solexis and Kynar® by Arkema Inc. Both offer comparable performance per industry standards for weathering. 
Leading coating manufacturers continue to develop unique formulations that meet the growing demands and creative applications of architects, developers and construction companies. More recent innovations include energy-efficient, solar-reflective and color-changing coatings, as well as enhanced application properties and more reliable color consistency.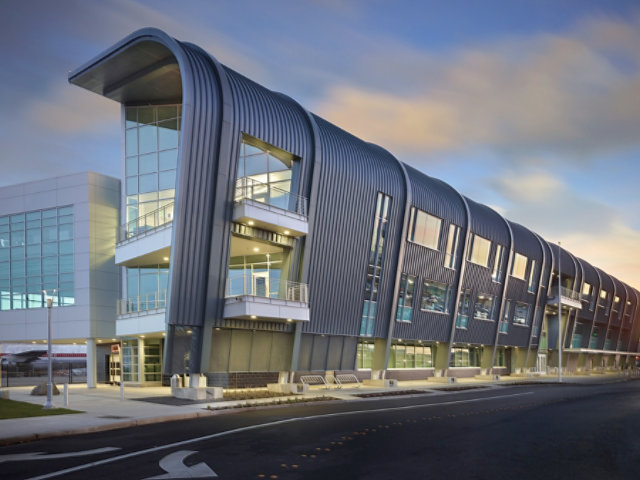 Benefits of PVDF Coil and Extrusion Coatings
PVDF coated metal panels are trusted worldwide to clad monumental architecture. But this industry-leading reputation didn't happen overnight.
Outstanding Color Retention

Inorganic pigments combine with premium resins to determine the color, vibrancy, durability and aesthetic quality of a finished coating. Pigments are the key ingredient in coatings that make it possible to create any color imaginable for metal architecture.
Film Integrity and Coating Adhesion Quality
One of the defining features of PVDF coatings, are their erosion rate, or the amount of time at which a coating degrades. The erosion rates of PVDF coatings are relatively small, an essential factor for their advanced color and design longevity. The quality of PVDF coating adhesion depends on the superiority of the primer that adheres to the substrate. The primer is meant to create a strong bond with the PVDF topcoat, which helps resist the stresses of forming and weathering
UV Resistance
Of any polymer used within coatings today, PVDF coatings are the leaders when it comes to UV resistance, delivering an eco-friendly way to resist heat absorption from the sun. PVDF coatings not only help lower energy cooling costs and keep interior spaces more comfortable, but do so without sacrificing durability, performance or beauty.
Gloss Ranges
Gloss ranges refer to the sheen or glossiness of a paint finish. Metal coatings come in a range of gloss options ideal for different applications. Most PVDF formulas use a standard gloss level.
Chalk and Fade Resistance

In order to ensure protection against chalking and fading, the correct formulation is crucial. Carbon-fluorine bonds are one of the strongest chemical bonds available. It's this mix of ingredients that gives PVDF paints their stubborn resistance to chalking and erosion, as well as harsh airborne industrial and atmospheric pollutants.
As we can see from the list above, PVDF coatings have many benefits that make them a perfect choice to protect metal building products and give architecture a vibrant finish long into the future.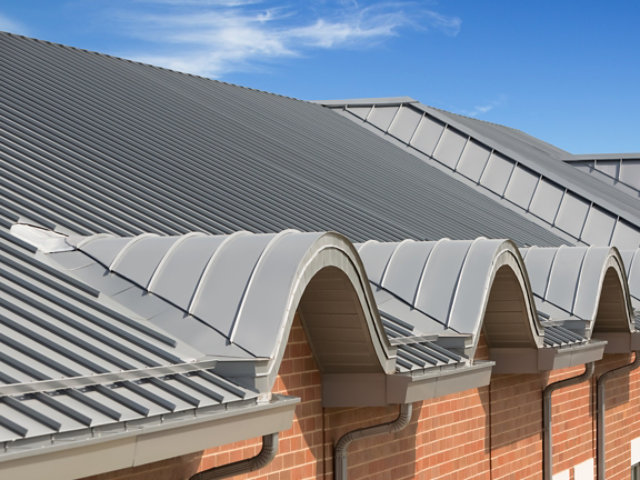 How PVDF Coatings are Manufactured
To achieve the many durability and aesthetic benefits of PVDF coated architecture, manufacturers create unique formulations, which include a mixture of resins, solvents, pigments and additives.
Resins

Resins are the principal component that determines the appearance, durability and performance of a coating and serve as the binder that forms the paint film. Common resin names outside of PVDF coatings are fluoroethylene vinyl ether (FEVE), silicone-modified polyester (SMP), vinyl-coated polyester, (PVC) and Polyester.

Solvents

Solvents are used to thin a coating mixture's consistency in order for it to be properly applied. Solvents steadily evaporate during the curing process as the resin system adheres to the substrate.
Pigments

Pigments not only add the color and visual features to a coating, but they also influence its durability. The quality of pigments contributes to a coating's ability to retain its color.

Additives

Additives are used for processing pigments within the film, flow and smoothness, regulating the rate of the cure, and enhancing the coating's hardness, gloss, mar resistance and other performance features.
Many variations of resin-based coatings exist, but PVDF paints always use a combination of the above ingredients in various quantities, depending on the end use of the coating.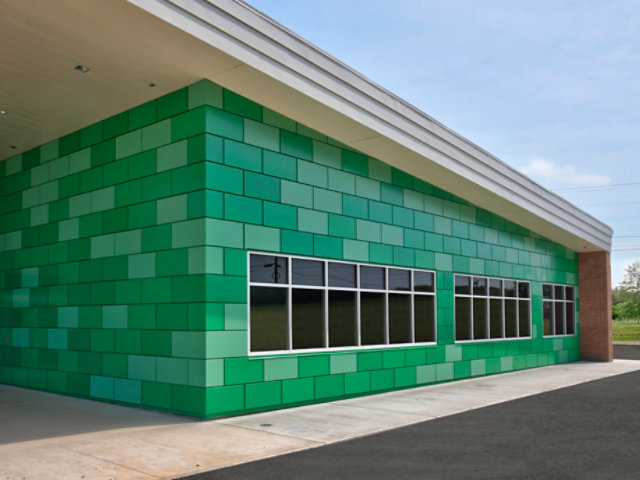 The Role of Pigments in PVDF Architectural Coatings
Resins, solvents, and additives are imperative for coatings to function correctly, but pigments are the ingredient that make the biggest impact on color and final aesthetic.
Pigments come in various forms – inorganic (ceramic), organic and pearlescent or metalescent. These three variations of pigments comprise the majority of coating formulations, and can determine the color, vibrancy, durability and aesthetic quality of a finished product.
Organic Pigments 
Organic pigments provide bright and vivid colors, but they have low resistance to fading and weather poorly when used on their own. These pigments are carbon-based, made from petroleum compounds and are more expensive than inorganic pigments. Despite offering dynamic colors, organic pigments provide less protection from the elements, and due to their heightened opacity, allow ultraviolet light and oxygen to penetrate, breaking chemical bonds.
Inorganic Pigments
Inorganic pigments are widely used because their colors are more stable to light and heat, and they do not bleed. Inorganic pigments are manufactured from mineral compounds and are less expensive than organic pigments. Although they can last for many years, most coatings that are comprised primarily of inorganic pigments offer fewer bright colors and consist mostly of earth tones. Historically, bright inorganic pigments existed, but they contained lead and cadmium, which are rarely used today due to toxicity concerns.
Pearlescent or Metalescent Pigments
Pearlescent or metalescent pigments are mainly composed of minuscule flakes of aluminum, natural mica or synthetic mica-like material. These pigments add depth and sparkle to a finish, and can even shift in color contingent upon the lighting and from what angle a viewer takes while looking at the coating.
Many coating innovations and colors are created through the modification of these pigments and additional coating ingredients. For example, solar reflective (SR) coatings contain solar-reflective pigments, offering durability that resists heat absorption without sacrificing performance or color. In light of such advancements, several categories of innovation make PVDF coatings stand out in the manufacturing process.
The Rigorous Testing Process Behind PVDF Paint for Metal
To ensure these coating formulations live up to expectations, scientists must place performance above all else.
This is why Sherwin-Williams' Fort Meyers testing site is so important to the development of new coating formulations. 
Known as the "test-fence" by employees, this site provides the ability to measure the weathering of every color and coating formulation over time. Coated metal panels are placed on inclined open racks orientated at the sun, usually at a 45 degree angle facing south for maximum exposure to UV light. 
Whether environmental conditions include ultraviolet rays, humidity, salt spray, corrosion or more, the site offers a literal perfect storm for testing the performance of coating longevity and various pigment formulations.
Accelerated Testing
In addition to real-world testing with the test fence, coating formulas are put through accelerated testing in labs. With this method, special environmental cabinets and instruments are used to speed up the weathering process and measure its effects under extreme conditions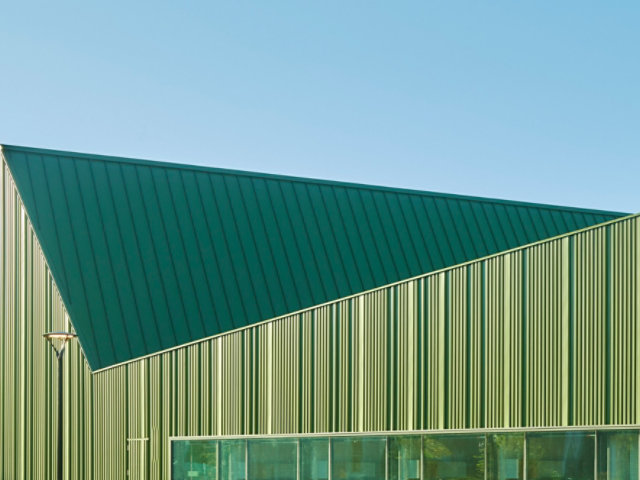 PVDF Coating Process for Coil and Extrusion
PVDF resin-based coatings are available in both coil and extrusion forms. Each type has specific uses for architectural metal building products.
The PVDF coil coating process begins with a flat sheet, coil-coated or pre-painted architectural building product that is then molded into a specific shape that includes wall or roof panels as well as gutters.

In contrast to the process of coil coating, which is applied to metal prior to being shaped into an architectural building product, the aluminum extrusion process creates the metal form before a finish is applied. 
The shape of the die determines the shape of the extrusion, and by using an aluminum billet with a powerful hydraulic press, extruders can produce nearly any shape possible. The most common examples of extruded aluminum are fenestration products, which include curtain wall, window framing, storefronts and entrance systems.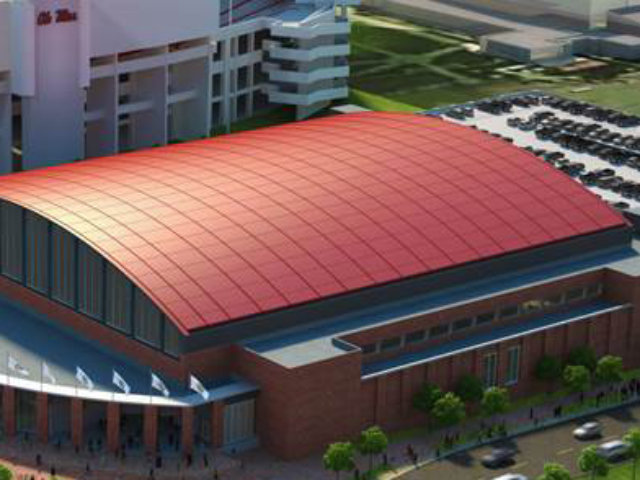 Case Study: PVDF Coatings Clad The Pavilion with Color and Protection
PVDF coated metal panels are used on a wide variety of structures, from elementary schools to residential homes, and even The Pavilion, a $96.5 million basketball arena at Ole Miss.
The University of Mississippi, founded in 1848, commissioned the new arena to be utilized as a multi-purpose facility for events such as men's and women's basketball games, graduation ceremonies, concerts and other university-wide occasions. 
Work on the facility began with a groundbreaking ceremony in July 2014, and opened to great fanfare during a weekend long celebration, January 7-10, 2016. The facility was designed by AECOM Technology, an architecture and engineering firm based in Kansas City, Missouri. BL Harbert International located in Birmingham, Alabama was the general contractor with experience building several other SEC arenas. 
The facility consists of a three-story structural steel frame supporting steel trusses. From the exterior, it wields an elegant footprint in spite of its scale, one that is enhanced by a curved and colonnaded entrance façade that echoes The Pavilion's signature curved roof. The roof is clad in metal paneling manufactured by ACI Building Systems LLC and coated with Sherwin-Williams' Fluropon in Terra Cotta, a rich earth-tone hue.  
Chosen from an extensive list of colors, Sherwin-Williams' Fluropon 70 percent PVDF coating in Terra Cotta is a premium, high performance product that offers some of the most advanced durability and aesthetic features. Architects and building owners alike, can trust that the Fluropon coating used on the roof of The Pavilion will provide:
Film integrity and adhesion quality

Chalk and fade resistance

UV resistance
Sherwin-Williams' Fluropon is a leading example of modern PVDF coating formulation, offering exceptional durability properties. In the example of The Pavilion, combined with the ACI panels, its striking roof will endure lustrous beauty for years to come.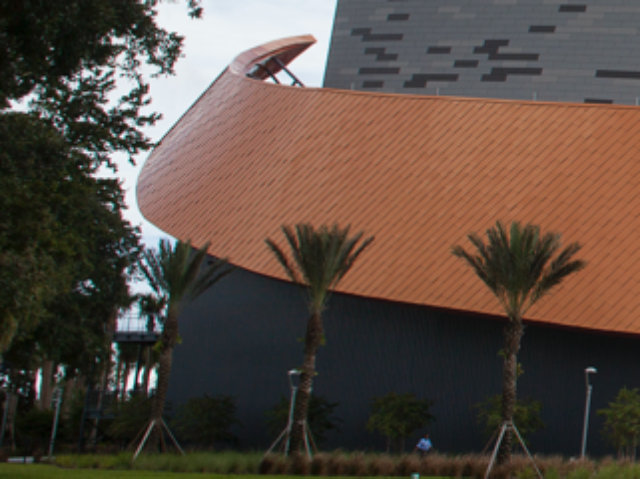 Beyond PVDF Coatings
PVDF coatings have secured their reputation as the industry's leading coatings for metal architecture because of excellent color retention and lasting durability.
But PVDF represents only one type of resin-based coating. Other types include SMP, FEVE, PVC and Polyester. These varieties possess qualities that make them ideal for use in specific situations.

SMP (silicone-modified polyester):
SMP coatings are ideal for tough environments such as industrial or agricultural applications where color is still important, but resistance against abrasions is even more paramount.
Polyester:
Polyester coatings provide good weathering and corrosion resistance. They are typically used for general purpose, interior appliances, residential air conditioners, trim, gutters and sheds.
FEVE (fluoroethylene vinyl ether):
FEVE coatings tend to cost more, but provide a higher gloss than PVDF. They possess the same benefits as PVDF architectural coatings plus added weatherability protection.
PVC (vinyl-coated polyester):
PVC coatings are a cost-effective option for finishing gutters and undersides of facades or roofs.
The key to a successful finish is selecting the correct coating formula for the application. Lean on the expertise of manufacturers to guide you toward the best choice for the project at hand.
From proprietary ingredients to reliable testing, a lot goes into the development of PVDF architectural coatings. Thanks to ongoing improvements and the advanced finishes that PVDF coatings provide, monumental metal architecture around the world remains vibrant and durable for years to come.
Explore what's possible for your next metal architecture design by requesting a color sample.